CoolerMaster WaveMaster Black Aluminum Case Review
---
If you were to tell me a few years ago that computers would be fixed up like hot-rods; with blinking lights, cold cathode lamps, case windows, and all the rest I would have said "you're crazy." After all, who in their right mind would want to put all that chrome plated flashiness into an ugly beige case? Back then, computers were like toasters, they came in one colour and you were only concerned with how well the computer worked, how much it cost, and definitely not how it looked.
Of course, things have changed drastically from those days, and back then you could have never imagined what PC's would look like today. Computer cases now come in a variety of materials like aluminum, steel, plastic, and even stainless steel occasionally. Some plastic cases are entirely clear, allowing the user to showcase they prized computational possessions, while others strive to break from the typical PC shape.
Most new cases though, tend to fall into the generic trap; a bit of colour, a little plastic window on the side perhaps, and a couple of flashy LED fans. I wouldn't be caught dead using one of those hideous things, which always seem to look like they just came from the set of Mighty Morphin' Power Rangers... Yikes!
Yes, instead of going for a generic aluminum case, I'd recommend you choose an enclosure that won't be so outdated come next year, and one that will also last long into the future as you continue to upgrade your individual PC components. If you're in the market for a high quality case (and I do not mean that Thermaltacky stuff) there are a handful of manufacturers to choose from; Antec, Lian Li, Kingwin and CoolerMaster spring to mind.
CoolerMaster is definitely not the same OEM-oriented company they were just a few years ago. The company has embraced a new design ethic, and have really driven the retail market to innovate. From heatsinks to thermal compounds and cases, CoolerMaster are showing us that they can design their products not only for appearances, but for functionality as well.

CoolerMaster WaveMaster

Features:
(4) 5.25" Drive Bays
(1) 3.5" Drive Bays
(4) Hidden 3.5" Bays
(3) 80mm fans
Power/Reset switches
(7) slot positions
The Coolermaster WaveMaster black aluminum ATX case looks pretty awesome doesn't it?
The look and feel of the case is unique, and with the 3mm thick aluminum sheet metal used for the internal construction, should last for many years too. The WaveMaster certainly feels a lot more solid than the good old Lian Li PC-70, but this mainly has to do with material thicknesses - LianLi case panels are quite thin. The WaveMaster comes with solid side panels (no windows here folks) and the following assortment of drive bays; (4) CDROM 5.25" drive bays, (1) 3.5" FDD bay, (4) 3.5" HDD drive slots, and (3) 80mm intake/exhaust fans.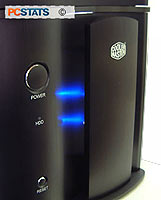 The front of the WaveMaster case is nice and minimalist, with just a HDD light, and power & reset switch visible with the door closed. Hidden behind the aluminum door which closes with the aid of a small magnet, are four 5 1/4" drive bays and one 3-1/2" FDD bay. The large power button has a nice feel to it when pressed, and is easily identifiable. Below that is a strong blue LED HDD light; best not to look directly into that sucker.
Lastly, it would be very limiting to have a case which is sealed off from the outside entirely; case fans are really important contributors to keeping today's high wattage videocards and processors running cool through moderate ambient internal temperatures.
A large circular hole in the front of a case would just be an eyesore, so Coolermaster have devised a clever way to conceal the intake of two 80mm fans on the WaveMaster. Hidden behind a curved piece of extruded aluminum adjacent to the power button are a series of intake air vents for the two fans just on the other side. There are also two blue LED's located behind this 'wave' of aluminum which glow to signify when the system has power.