Unreal Tournament 2003

Source: Epic
Unreal Tournament 2003 is the sequel to 1999's multiple 'Game of the Year' award winner. It uses the very latest Unreal Engine technology - where graphics, sound and game play are taken beyond the bleeding edge. Unreal Tournament 2003 employs the use of Vertex as well as Pixel Shaders and it's recommended that you use a DirectX 8 videocard to get the most out of the game.
UT2003 - 640x480
Flyby
FPS
Ranking

Gigabyte K8NSNXP-939 (200/400)

326.5

Asus A8V (200/400)

328.25

Asus A8V (220/440)

342.65

Botmatch

FPS

Ranking

Gigabyte K8NSNXP-939 (200/400)

105.61

Asus A8V (200/400)

106.45

Asus A8V (220/440)

114.3
In UT2003 we find that both motherboards perform about the same, which shouldn't be too much of a surprise by now. Overclocking boosts the overall frame rates by a small margin.
Athlon64 socket 939 = Damn fast!
I know of many users who were not happy with AMD's two pronged approach with the Athlon64 and Athlon64 FX CPU. Knowing that Socket 939 would eventually unite the two lines, many simply decided to waited it out until there was a more stable platform to upgrade to... and upgrade from in the future. Now that the Socket 939 Athlon64 processor is upon us, I think it's safe to expect more manufacturers start pushing out their AMD motherboards.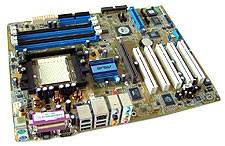 Since AMD has moved the memory controller straight into the CPU die itself, it should be pretty obvious that Athlon64 processors are damn fast, no matter what chipset the motherboard is paired with. The Asus A8V motherboard we've tested in this review uses VIA's K8T800 Pro/VT8237 combination, and true to form, the board was pretty potent in the benchmarks!
In terms of features the Asus A8V supports 7.1 audio, IEEE 1394, Gigabit LAN, Serial ATA RAID, up to 4GB of unbuffered dual channel DDR RAM, and a few other things. Despite all the integrated peripherals, Asus is still able to include five PCI 32bit PCI slots for your upgrading needs.
As the benchmarks have indicated, stock performance of the Asus A8V was great, it's easily one of the fastest motherboards we've ever tested in the PCStats labs, and it also maintains a very slight edge on the nVidia nForce3 Ultra solution. With respect to overclocking, the A8V is moderately capable, but nothing special. The multiplier control was limited to a maximum FSB of 220 MHz, and VIA's on-again-off-again AGP/PCI lock didn't help the matter either. What really drives home the Asus A8V, and the reason why this board has walked away with PCstats Editors Choice Award, is its retail price of $195 CDN ($143 US). As a flagship motherboard the the Asus A8V is priced very aggressively, and if you are lucky enough to be buying a Socket 939 Athlon64 in the near future, make sure you check out the Asus A8V!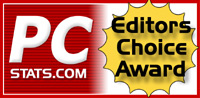 Here are a few other articles that you might enjoy as well...