Asus A8V Deluxe Athlon64 Motherboard Review
---
When AMD released the new Socket 939 form factor for its Athlon64 and Athlon64-FX processors, AMD sent out evaluation kits to media around the world. In those kits which would serve as the first introduction for its newest processor, the company included the Asus A8V motherboard. Now, if AMD is comfortable with picky journalists judging its newest multi-million dollar CPU roll-out on an ASUS board, then that certainly underscores something consumers should be taking note of.
Though, before we get too far ahead ourselves in this review of the new socket 939 ASUS A8V motherboard, we should look back at where 64-bit processing was headed with respect to AMD. Before the socket 939 Athlon64 was released, AMD was dealing with a fragmented CPU market. Its socket 754 Athlon64 was a single channel DDR solution, and its socket 940 Athlon64-FX and Opteron solutions were out of the reach of most consumers budget, and interest.
While both the socket 754 Athlon64 and 940 Athlon64 FX chips offered fast 64 and 32-bit performance, the roadmaps were pointing to an impending socket 939 Athlon64 release that would eventually replace both solutions. As a consumer, I'm sure you can understand that no one likes to buy into a short-lived CPU form factor (remember the now defunct socket 423 Intel Williamette?)... so initial sales were conservative.

Asus A8V Motherboard

Includes:

Ultra/133 IDE Cable, Ultra/33 IDE Cable, Floppy Cable, Two Serial ATA Cables, Rear I/O Shield, Driver CD
AMD's situation has since cleared itself up, and the socket 939 AMD Athlon64 processor with support for dual channel DDR400 memory has been enthusiastically received by consumers looking for a long term edge. Which brings us back to the pale brown Asus A8V motherboard. One of many Socket 939 Athlon64 motherboards you'll be seeing on the market, the Asus A8V is based on the VIA K8T800 Pro chipset.
VIA's K8T800 Pro follows in the footsteps of its wildly popular K8T800 chipset, while increasing its repertoire by supporting socket 939 AMD Athlon64 and AthlonFX processors, as well as up to 4GB of regular unbuffered DDR PC3200 memory.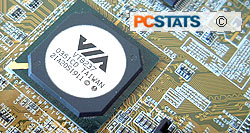 When paired with the VIA VT8237 southbridge, standard onboard goodies consist of 7.1 channel audio, IEEE 1394, Gigabit LAN, Serial ATA RAID, not to mention a PCI/AGP lock and HyperTransport links at 1000MHz.
The layout of components on the Asus A8V is pretty good, and the one aspect I especially like is the Power status light.... mainly because it's actually visible. Why is it that so many boards have this helpful little LED tucked away in some obscure location where it can't be seen easily? Round back at the I/O port we find an optical and Coaxial S/PDIF connection for home theatre systems, and a set of 6 universal audio jacks. Next to the Firewire connection is the RJ-45 Gigabit LAN port and four USB2.0 jacks.
Serial ATA hard drives are definitely easier to use than IDE drives, but I'm not ready to part with the gig's of storage I have right now just because the industry has switched from one connector, to another. Luckily for users like myself, the Asus A8V is equipped with a Promise PDC20378 SATA/IDE RAID controller.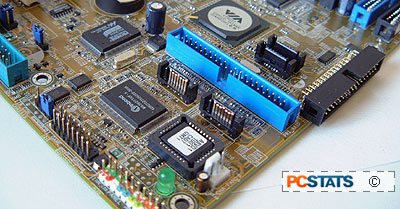 This translates into four Serial ATA channels, and two extra IDE channels. If you don't want to take advantage of the Promise RAID, both the Serial ATA and IDE connectors can be used for standalone drives.
Along the bottom edge of the board are the headers for extra USB, COM and Game Ports. The FDD connector is folded over 90 degrees so it is well out of the way of PCI devices, or nice long AGP 8X videocards. Fan headers are peppered throughout the A8V, with a pair situated by the CPU socket and AGP slot. Another is located at the bottom right hand corner of the board for the system fan.
I am not a fan of Realtek ALC850 AC'97 audio, but I have to admit that manufacturers have raised their standards with the release of the 7.1 codec's. Sure it saps a lot of CPU resources, but an Athlon64 of any speed has a lot to spare.
All Athlon64 processors have the memory controller built into the processor, yet the VIA K8T800 Pro Northbridge still gets quite toasty during operation. The passive heatsink Asus slap onto the A8V should be fine for regular use, but I'd recommend overclockers in the crowd get an active heatsink for this puppy. Speaking of which, let's look a little closer at the VIA K8T800 Pro chipset.