A completely rewritten 3D engine based on DirectX8 encompasses many visual effects such as volumetric Nebulae (gas clouds) that have a real impact in the game (you can hide in them), many new engine, shield, weapon and explosion effects. Objects cast real dynamic 3D shadows! Dynamic DP3 bump mapping allows a previously unseen level of detail.
X2: The Threat Benchmark Results 640x480-32bit
Motherboard
FPS
Ranking
DFI LANParty 875B
137.141

Albatron PX865PE Pro II

136.177
Gigabyte 8IPE1000 Pro2-W
137.11
Gigabyte 8S655TX Ultra
138.64
Gigabyte 8KNXP Ultra-64
138.41
Gigabyte 8KNXP Ultra-64 (220/440)
148.9
Again, don't be surprised that performance at stock speeds is about the same - each board should perform pretty much on par with each other. Overclocked and we get a nice 10fps boost.
Unreal Tournament 2003

Source: Epic
Unreal Tournament 2003 is the sequel to 1999's multiple 'Game of the Year' award winner. It uses the very latest Unreal Engine technology - where graphics, sound and game play are taken beyond the bleeding edge. Unreal Tournament 2003 employs the use of Vertex as well as Pixel Shaders and it's recommended that you use a DirectX 8 videocard to get the most out of the game.
UT2003 - 640x480
Flyby
FPS
Ranking
DFI LANParty 875B
240.34

Albatron PX865PE Pro II

228.13
Gigabyte 8IPE1000 Pro2-W
239.15
Gigabyte 8S655TX Ultra

239.97

Gigabyte 8KNXP Ultra-64

246.19

Gigabyte 8KNXP Ultra-64 (220/440)
267.55
Botmatch
FPS
Ranking
DFI LANParty 875B
83.67

Albatron PX865PE Pro II

83.45
Gigabyte 8IPE1000 Pro2-W
82.57
Gigabyte 8S655TX Ultra

83.41

Gigabyte 8KNXP Ultra-64

82.81

Gigabyte 8KNXP Ultra-64 (220/440)
89.95
The Gigabyte 8KNXP Ultra-64 is great for those of you who want to sneak in a bit of gaming while at work too. ;-)
Conclusions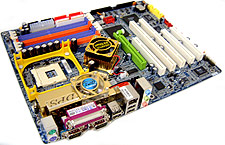 With the 8KNXP Ultra-64, Gigabyte has a very interesting alternative for workstation users. While the board is equipped with the i875P Northbridge, Gigabyte pairs it up with the more advanced Intel 6300ESB (Hance Rapids) Southbridge instead of the ICH5/ICH5R.
This is important because it gives users the choice of using Pentium 4 processors with the i875P, while having the benefits of 64 bit PCI compatibility! The two PCI-X slots on the Gigabyte 8KNXP Ultra-64 both support 3.3V 64bit PCI devices that run at 66 MHz.
In a workstation/server environment, 64bit PCI devices give their users the extra bandwidth needed for high bandwidth hardware. For example, if the onboard Adaptec AIC 7902W Ultra/320 SCSI controller were to run on the PCI bus, it would completely bottleneck the system. With PCI-X, even if the onboard SCSI controller is running at full speed, there's plenty of bandwidth remaninig for the other PCI devices.
From the benchmarks we ran, the Gigabyte 8KNXP Ultra-64 performs virtually identical to all other i875P based motherboards. This is expected as the test CPU and chipset are identical as well. There's not much to complain about, other than the relatively high price tag brought forth by the inclusion of Hance Rapids and onboard Adaptec SCSI. At $488 CDN ($350 US), the Gigabyte 8KNXP Ultra-64 is certainly a workstation solution that provides a compelling range of high-end features for the desktop.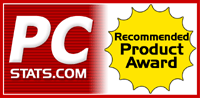 Here are a few other articles that you might enjoy as well...