Gigabyte GA-8KNXP Ultra-64 Motherboard Review
---
When the Intel i875P chipset was introduced, it addressed the need which existed at the time for a high end desktop solution which could also double up for entry level workstations. After all, Pentium 4 C processors have plenty of power, enough to rival Intel's server oriented Xeon processor in many applications. While the i865 Springdale chipset may proved itself more popular in the long run, the i875 Canterwood was certainly the more versatile of the two chipsets.
Most everyone who spends their days testing computer hardware likes to focus on the desktop side of things. In this review however, PCstats will be looking at a true workstation-class i875P-based motherboard from Gigabyte, called the GA-8KNXP Ultra-64. Although this board is impressive across the scale, it does seem as though Gigabyte's engineers simply adapted the already successful GA-8KNXP Ultra motherboard for extra duty; tossing in two 64bit PCI slots and an Adaptec SCSI controller into the mix.
Obviously based on the reliable and proven i875P chipset, the GA-8KNXP Ultra-64 motherboard supports the usual assortment of Socket 478 Pentium 4 processors from 533MHz to 800 MHz FSB. It has six DDR DIMM slots which will handle a maximum of 4GB of PC3200 DDR RAM. I'm sure if you're using this board for workstation applications, you'll want to fill it up with RAM.

Gigabyte GA-8KNXP Ultra64



Includes:

Users Manual, Serial ATA RAID Manual, Quick Installation Guide, Ultra/133 IDE cable, Floppy Drive Cable, SCSI Ultra 320 Rounded Cable, Four Serial ATA Cables, Two Molex to Serial ATA splitter Cables, Motherboard Sticker, Gigabyte Sticker, I/O Shield.
The list of nnboard goodies is long, and includes; Intel Gigabit CSA LAN, 7.1 channel audio, an additional four port Serial ATA RAID controller, onboard Adaptec AIC7902W Ultra320 SCSI (two channels) and of course dual BIOS's for added redundancy. For expansion purposes we find an 8x AGP slot, three 5V 32bit 33 MHz PCI slots and two 3.3V 64bit 66 MHz PCI-X slots courtesy of the Intel Hance Rapids (6300ESB) Southbridge.
Oh, and for good measure, the GA-8KNXP Ultra-64 also comes with a copy of Norton Internet Security 2004 which includes Norton Antivirus 2004, Personal Firewall, Privacy Control, Parental Control and Spam Alert.
The Ultra320 SCSI ports are placed at the lower right hand edge of the PCB which should help keep the cables away from full length PCI/PCI-X cards. The GA-8KNXP Ultra-64 includes the necessary rounded Ultra320 SCSI cable for use with the board. It comes with a terminator, space for five SCSI drives, and measures 125CM in length.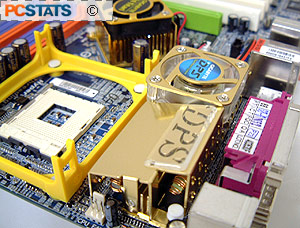 Most enthusiasts are aware of just how hot MOSFETs can become under heavy load... or a heavily overclocked system. To mediate the heat, Gigabyte has applied their DPS cooling system to keep those little power regulators cool. The DPS system is actually a dual power supply, intended to provide a cleaner power source than typical 4-phase designs. The thinking goes that electronic components that run cooler tend to run stable longer.
The onboard AC'97 Realtek ALC850 supports 7.1 audio which is pretty nice when you consider the vast majority of sound cards out there right now are still 5.1.

The Gigabyte GA-8KNXP Ultra-64 includes the necessary audio bracket for users to take full advantage of 7.1 surround audio, as well as the SPDIF optical and RCA outputs.
The package includes a couple different manuals, but I would have liked to have found a little more detail explaining the SCSI 320M features and options. We'll look at this SCSI solution and the PCI-X bus it connects to the rest of the PC with next in a little more detail.