After some discussions for and against removing overclocking benchmarks entirely from PCstats reviews, we have decided to change how we do things, but still include them. From now on, PCstats reviews are simply listing the maximum overclocked speed a motherboard is able to achieve here, rather than for each and every benchmark.
Since overclocking can be a very subjective skill, it just makes more sense to keep our benchmarks focused on the stock performance of system components. Plus, by listing the maximum overclocked speeds of various motherboards here, you have a better idea of which manufacturer really does produce the best goods for enthusiasts!
Maximum Overclocked Speeds - PCstats Results

Intel Motherboard Results

Chipset

FSB

Ranking

DFI LANParty 875P-T
i875P
257 MHz
Albatron PX915P-AGPe
915P
247 MHz
Albatron PX915G Pro
915G
244 MHz
Epox EP-5EGA+
915G
220 MHz
Gigabyte GA-8ANXP-D
925X
216 MHz
Gigabyte GA-8GPNXP
915P
216 MHz
I have a feeling the DFI 875P-T motherboard could have gone higher if we had a lower clocked processor, but 'if's' don't count here. In any case, you're definitely going to be happy with the LANParty 875P-T if you're an overclocker!!!
Wicked Fast...
In spite of DFI's great progress in the last year and a half, many consumers still don't realize that DFI is a major player when it comes to enthusiast calibre gear.
With this board, DFI have really given enthusiasts who want to upgrade to the Socket 775 Pentium 4 processor an interesting alternative to consider.
The LANparty 875P-T is a good transitional board, and one without the fuss and expense of entirely new memory, hard drives, or videocard. When comparing the performance differences between the DFI LANParty 875P-T and an equivalent high end 925X-based motherboard, it's also pretty clear where the performance differences reside.
When it comes to bundling in goodies, DFI's LANParty series is top notch; UV reactive cables, a UV wire sleeving kit, the PC Transpo LAN party transportation strap, and FrontX ports...
On the system side, the CMOS Reloaded feature is awesome, and really comes in handy during testing.
Ultimately, the benchmark performance of the DFI LANParty 875P-T motherboard was excellent. It is not as fast as an 925X-based motherboard like the Gigabyte GANXP-D, but it's close enough. Our overclocking tests were also very positive considering the system reached 257 MHz FSB. In other words, that is a total overclock to 4.11 GHz with a 3.2GHz chip!
With a retail price of $215 CDN ($172 US), the DFI LANParty 875P-T is a bit on the pricey side, but well within range of other enthusiast quality motherboards. If you want to play the game, you got to be prepared to get the right tools, and the DFI LANParty 875P-T is certainly a wild ride!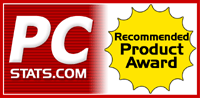 Find out about this and many other reviews by joining the Weekly PCstats.com Newsletter today!
Related Articles
Here are a few other articles that you might enjoy as well...