DFI LANParty 875P-T Motherboard Review
---
Predominantly an OEM manufacturer for most of its existance, DFI has certainly hit the retail market very hard with its enthusiast friendly Infinity, and flagship LANParty lines of motherboards. In about a year's time, DFI has gone from a virtual nobody to an enthusiast friendly power house!
After hearing for years that a manufacturer cannot make money catering its products exclusively to the small yet volatile group of enthusiasts like us, it's refreshing to see DFI's overwhelming success. Hopefully, this will open the eyes of other manufacturers and will lead to more real overclocker friendly products in the future.
DFI's LANParty 875P-T is a very interesting motherboard, and one of only a few in its class. It allows users to upgrade to a Socket 775 Intel Pentium4 processor, while at the same time allowing them to keep all of their old hardware since. This is possible because the DFI LanParty 875P-T is based on the Intel i875P chipset.
Of course, this also means that there is no PCI Express x16 or DDR-2 RAM support. However, with the imminent replacement of the 925X by the 925XE, and little in the way of high end PCI Express videocards to choose from, the DFI 875P-T is a good alternative right now.

DFI LANParty 875P-T



Includes:

Motherboard Manual, Quick Installation Guide, Driver CD, RAID Disk, FrontX Drive Bay, Rounded IDE Cable, Rounded Floppy Cable, Window Sticker, DFI Badge, Jumpers, WinDVD, PC Transport Strap, UV wire sleeving kit
The DFI LANParty 875P-T is a pretty lean motherboard; its feature set includes Gigabit ethernet, IEEE 1394b and 5.1-channel audio onboard. DFI spice up the package with a complete set of rounded UV-sensitive cables, the FrontX front panel drive bay I/O unit, DFI's 'PC Transpo' LAN case carrying strap and a UV wire sleeving kit! All you will need to do is buy yourself a UV cold cathode light and you're definitely going to have one of the prettiest PC's on the block.
Remember too that all the orange ports and slots on the 875P-T are also UV reactive, and against the black motherboard it is quite a light show. Under a UV light the AGP/PCI and DIMM slots as well as the IDE/Serial ATA ports will shine brightly.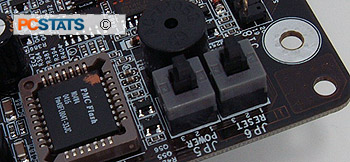 Of course to make it totally complete, the supporting cables like IDE/Serial ATA cables, zip ties, and cable sleeves are all UV reactive as well.
There are pretty motherboards, and then there are DFI boards; the DFI LANParty 875P-T is really a dream case-modders motherboard!
To make things easier for the tweaker, DFI have placed actual power and reset buttons in the lower right hand corner of the PCB. I know when I'm testing a motherboard to see how far it overclocks, I rarely ever install it into a case. With the buttons right there on the LANParty 875P-T. I don't have to short two pins to turn on or reset the system.