After some discussions for and against removing overclocking benchmarks entirely from PCstats reviews, we have decided to change how we do things, but still include them. From now on, PCstats reviews are simply listing the maximum overclocked speed a motherboard is able to achieve here, rather than for each and every benchmark.
Since overclocking can be a very subjective skill, it just makes more sense to keep our benchmarks focused on the stock performance of system components. Plus, by listing the maximum overclocked speeds of various motherboards here, you have a better idea of which manufacturer really does produce the best goods for enthusiasts!
Maximum Overclocked Speeds - PCstats Results

Intel Motherboard Results

Chipset

FSB

Ranking

Albatron PX915P-AGPe
915P
247 MHz
Albatron PX915G Pro
915G
244 MHz
Epox EP-5EGA+
915G
220 MHz
Gigabyte GA-8ANXP-D
925X
216 MHz
Gigabyte GA-8GPNXP
915P
216 MHz
The Epox EP-5EGA+ overclocks higher than the two socket 775 Gigabyte motherboards, but is far from the speeds attained by either Albatron board. Things could have been better if Epox had included Northbridge voltage adjustments I think.
Epox Gets it Right.... Almost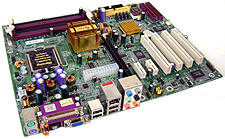 The "writing is on the wall" with regards to PCI Express. If you're purchasing a new PC, or new components, you should definitely go the PCI Express route. This way you won't be stranded with an obsolete system in the future should you need to upgrade. Right?
The Epox EP-5EGA+ proved to be a good motherboard in most respects, but it is not without a few quirks. Let's consider the positives first; it comes with 7.1-channel Intel 'High Definition Audio', IDE RAID, Gigabit ethernet, and integrated Intel GMA900 graphics. In terms of expansion, the Epox 5EGA+ is legacy friendly with four PCI slots, and future proof with two PCI Express x1 and a PCI Express x16 videocard slot. Personally, we're quite pleased with the IDE RAID option because IDE drives will not be disappearing from stores anytime soon.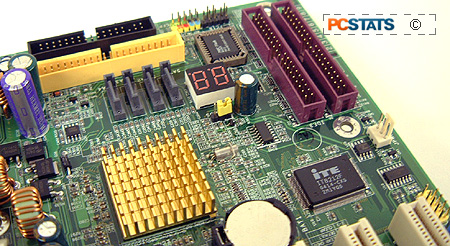 On the down side, the layout of the board is mediocre at best. The Epox 5EGA+ is certainly not the best example Epox has produced, and could benefit from a few refinements to make it much more enthusiast friendly. The main issues relate to after market cooling solutions on their PCI Express videocard, or the processor for that matter.
The close proximity of the northbridge and main 24-pin ATX power connector to the rear of the PCI Express x16 slot are limiting, as are the four large electrolytic capacitors to the left of the CPU socket. Removing the videocard can be a pain with those two small TEAPO capacitors in the way of the locking clip too.
Don't get me wrong though, not everything is poorly laid out on the Epox 5EGA+. The grouping of IDE and SATA headers is neat and easy to access, and the board comes with a nice little bundle of extras too. The benchmarks indicate that the performance of the Epox EP-5EGA+ motherboard is quite good, but overclocking was a bust. I would have anticipated better results from the EP-5EGA+ if it had some Northbridge voltage adjustments... but hitting 220 MHz FSB is still not too shabby.
Bottom line, if you're looking for an enthusiast grade motherboard for that special Socket 775 Intel Pentium 4 processor, the Epox EP-5EGA+ offers good, but not outstanding attributes. In fact, the EP-5EGA+ is probably best going to serve you as a workstation board, where its Intel GMA900 video can be taken full advantage of.
Find out about this and many other reviews by joining the Weekly PCstats.com Newsletter today!
Related Articles
Here are a few other articles that you might enjoy as well...
1. Gigabyte GA-8ANXP-D Motherboard Review
2. Albatron Mars PX915G Pro Motherboard Review