Epox EP-5EGA+ 915G Motherboard Review
---
When 8X AGP videocards were first introduced, the big question on a lot of people's minds was, 'why?' After all, 4X AGP videocards didn't even take full advantage of the bandwidth or features available to them. At the time, moving to 8X AGP from 4X AGP all seemed a bit redundant, and the change marketing-department driven.
Right now, as the computer industry is faced with the change from 8X AGP to PCI Express x16 videocards, the same questions are popping up, and consumers are wondering why they should switch to yet another interface when there really is no need at the moment. The simple reason is this, Intel and co. are addressing issues proactively. This is why the socket 775 Pentium4 (care of the 915P and 925X chipsets, although there are exceptions ) only works with PCI Express videocards. Intel undoubtedly realize that if nothing is done to move consumers over to a higher-bandwidth graphics card interface, big bottlenecks will eventually appear. It's much easier to deal with these issues before hand, rather than later on with a knee-jerk reaction.
Keep all that in mind as PCstats tests out the brand-spanking-new Epox EP-5EGA+ motherboard. The EP-5EGA+ is a next generation board which is based on the new Intel 915G and ICH6R chipsets. The standard flavour is the 915P, but as you guessed it, the 915G boasts its own Intel GMA900 integrated video package. It also comes with the high bandwidth PCI Express x16 slot for graphics cards, so there are couple options video-wise.

Epox 5EGA+



Includes:

Users Manual, Quick Installation Guide, Power Guide Paper, Driver CD, Phillips/Flat Head Screwdriver, MOSFET Heatsinks, Thermistor Probe, Epox Sticker, Rounded Ultra/133 IDE cable, 2x Serial ATA Cable, 2x Molex to Serial ATA power cables, Floppy Drive Cable, Rear I/O Shield, Game Port Serial Bracket
If your computing requirements include high bandwidth peripherals like SCSI controllers or standalone Gigabit Ethernet NICs, there are two PCI Express x1 slots that have an amazing 250MB/s worth of bandwidth just waiting to be tapped! That is almost twice the regular PCI bus bandwidth! Of course, there are still four PCI v2.3 slots for your legacy devices, like sound cards, wireless LAN cards, or what have you.
Standard features on the Epox 5EGA+ include 7.1-channel Intel 'High Definition' audio, ATA-133 IDE RAID, four SATA headers, eight USB2.0 ports, Gigabit Ethernet and of course the wonderful Port 80 diagnostics card. Native features to the 915G chipset include Intel's Serial Matrix RAID Technology and the Graphics Media Accelerator 900, a.k.a. Intel GMA900.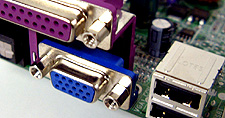 The board supports all Pentium 4 5xx and 7xx series processors up to 4GHz, on the 533/800MHz Front Side Bus. It's too soon to say if the 915G will support the upcoming 1066MHz FSB Pentium 4 processors however...
The rear I/O headers of the Epox 5EGA+ are quite different from the typical layout, so it's a good thing this board comes with its own I/O shield. Adjacent to the video connector are an optical and RCA SPDIF out port. On the opposite side are four of the USB2.0 ports, the Gigabit NIC and 7.1-channel 'auto jack sensing' audio mini-headphone jacks. The game and serial ports are located on a separate bracket which plugs into the motherboard.