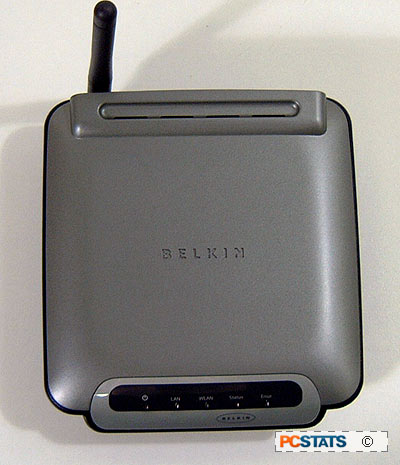 Once we had the Belkin 2-port USB Wireless Print Server up and running, it 'just worked,' which was refreshing. Once you have a printer set up with this server, it's completely transparent to use.

The printer attached to the Belkin server appears as a printer on your computer system also, and printing to that device will send the data out to the print server, which will pass it on to the actual printer by way of the USB port.

There was a little bit of oddness though, as this device has one strange 'feature' which we failed to understand.

The wireless network adaptor built into the print server will only function if the wired Ethernet port is not in use. Effectively, this Belkin print server is either wired or wireless, but not both at the same time. While it's not a huge issue, we can't really understand why this was implemented as it reduces the flexibility of the device.

The strength of the Belkin wireless USB print server's signal was not exceptional either, but it proved adequate for testing in our medium sized office. In a larger wireless network using multiple access points, this should not be an issue.

To test the speed of the device, we sent a 75MB gray scale image to the print server for printing on a Samsung CLP-550 laser printer. The transmitting device was a Gigabyte 802.11g wireless access point. The total time from the beginning of transfer to the file finishing printing was just under two minutes, which we found satisfactory. Simple text files began printing in no time at all. On the whole, the Belkin wireless USB print server will be slower at printing large files than a dedicated wired network printer, but the speed is still adequate for all but large volumes of images.

Conclusions

The Belkin 2-port USB Wireless Print Server simply does what it does. It's not a sexy gadget, nor is it particularly flexible or full of complicated options, but if you want to enable wireless printing throughout your home or office, this product will let you accomplish that quickly and easily. The addition of IP and FTP printing options is a nice bonus for business users.

We experienced no issues with this device other than a momentary problem with DHCP setup. If you use a DHCP server or home router to assign IP addresses to your network, make sure it is active before you plug in the Belkin print server and you will have no problems.

At about $135 USD ($165 CDN), the Belkin 2-port USB Wireless Print Server is targeted more at the business user. It's not cheap, but if you need a wireless print server this product is easy to recommend. It doesn't do anything else except serve printers, but it does it wirelessly and well.

If you're interested in sharing your printers over a network but don't think that this product is for you, check out PCstats Guide to printer sharing here.

Find out about this and many other reviews by joining the Weekly PCstats.com Newsletter today! Catch all of PCstats latest hardware reviews right here.

Related Articles

1. Samsung ML-1440 Laser Printer Review
2. LinkSys EtherFast 2-port PrintServer Review


3.