Doom 3 is the most advanced OpenGL game to date, it takes advantage of the latest videocard technology and pushes the processing power of the CPU to its absolute limits. At its highest setting Ultra quality, texture sizes pass the 500MB mark which means even tomorrows videocards will have a hard time running everything. The framerates in the game itself are locked at 60 fps so anything above that point is wasted. Each test is run three times and with the third run being recorded.
Doom3
LQ 640x480:
FPS
Ranking
Pentium 4 3.0C (i875P 200/400)
76.6
Pentium 4 540 (915P 200/400)
88.5
Pentium 4 540 (925X 200/533)
89.7
AthlonXP 3200+ (NF2 Ultra 200/400)
68.8
Athlon64 3200+ (NF3-250 200/400)
92.6
Athlon64 3800+ (K8T800 Pro 200/400)
104.3
Athlon64 3800+ (NF3 Ultra 200/400)
102
Athlon64 3800+ @ 2.57 GHz
106.5
A strong showing by the Pentium 4 540 chip here, but the 3800+ easily takes the Doom 3 performance crown as we expected.
AMD, still on top?
One thing that plagued AMD throughout the life of the K7 was heat and noise. Sure the chips were powerful, often stealing the performance crown from Intel, but they simply generated too much heat. To counter this, enthusiasts and manufacturers were forced to use larger and more expensive heatsinks, as well as more powerful (and louder) fans.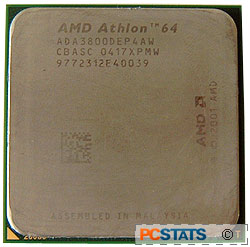 It seems AMD has learned from this experience and that's why all Athlon 64s have a feature called Cool 'n' Quiet integrated into the core.
To make things easier on manufacturers, AMD did not originally require them to enable the Cool 'n' Quiet feature for motherboard validation. This time around though, if you want to get on AMD's recommended list of motherboards, C'n'Q as they call it must be supported and enabled by default!
Another very nifty feature that is included in all Athlon64 Socket 939 chips is their EVP or Enhanced Virus Protection feature. Working in conjunction with SP2 for Windows XP, it should hopefully ensure that Athlon64 users will no longer have to worry about virus/worms that exploit memory buffer overflow errors. That's pretty significant if it proves to work as advertised, considering that a large number of the viruses/worms spreading throughout the internet use this method to infect a system! It's still to early to tell if this feature has had an effect in making computing as a whole more secure though.
The Socket 939 AMD Athlon64 3800+ that we've looked at today is clocked at a fast 2.4 GHz and built on AMD's trusty 0.13 micron manufacturing process. Compared to the older Socket 754 Athlon64 3200+ with its single channel memory controller, the Athlon64 3800+ only has half the L2 cache. However, AMD has now upgraded the memory controller with dual-channel DDR capabilities. By doing this, AMD not only increased performance, but saved manufacturing space and money as the actual silicon itself is now much smaller than before; 144mm2 vs. 193mm2.
Because the AMD Athlon 64 engine is more efficient, cutting the L2 cache in half does not have too much of an adverse affect on overall performance. You saw the benchmarks; the Athlon64 3800+ easily scored higher than the 3200+ in every test and it's not all due to the 400 MHz speed increase. AMD has done an excellent job with the Athlon64 3800+.
Find out about this and many other reviews by joining the Weekly PCstats.com Newsletter today! Catch all of PCstats latest hardware reviews right here.
Related Articles
Here are a few other articles that you might enjoy as well...
1. AMD Athlon64 3200+ 32/64-bit Processor
2. AMD Athlon64 and AMD's 64-bit technology
3. Intel Pentium 4 3.2GHz Extreme Edition Processor
4. Intel Pentium 4 3.2E GHz Prescott Processor
5. AMD AthlonXP 3200+ 400MHz FSB Processor