AMD Technology: Cool 'n' Quiet
When AMD released its long awaited Socket 939 version of the Athlon64 in June of 2004, it was almost nine months after the original Socket 754 Athlon64's came into being. Unfortunately for end users, many of the original Socket 754 motherboards did not support all the Athlon64 native technologies, like Cool 'n' Quiet.
It's a shame because C'n'Q (as AMD calls it) actually works quite well at reducing the heat and noise, as well as the amount of electricity the CPU draws. What C'n'Q does is dynamically lower the speed at which the processor runs, depending on the applications currently running on the PC, and how much CPU load is being applied.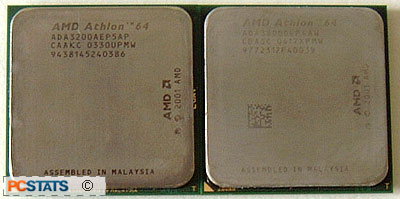 The AMD Athlon64 socket 754 processor is on the left, the Athlon64 socket 939 version to the right. The differences between each type of processor all boils down to support for dual channel DDR memory.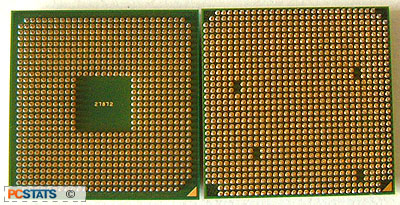 Cool 'n' Quiet is actually not a new feature as it's built into Socket 754 Athlon64's as well. Unfortunately most motherboard manufacturers just didn't enable it. This time around, for manufacturers to make AMD's Socket 939 recommended list , Cool 'n' Quiet must be enabled and supported by default!
With C'n'Q enabled, the motherboard will automatically lower the clock multiplier based on the level of CPU load and use. Obviously at a lower overall speed the processor will not run as hot and it will not draw as much power either, meaning that an Athlon64 based system with C'n'Q is also more economical in the long run.
In conjunction with the lower CPU speed, the CPU fan rotation also decreases, which helps to reduce the overall noise level coming from the PC. When the system detects more load, it will automatically scale the CPU and fan speed higher to meet the demands.
Enhanced Virus Protection
AMD has taken it upon itself to try and protect its users from possible virus/worm attacks that can exploit memory buffer overflow errors. This is accomplished with AMD's new Enhanced Virus Protection technology. EVP is a new technology, currently unique to AMD's 64-bit Socket 939 CPUs, that is designed to halt certain virus and exploit attacks as they occur. EVP works hand-in-hand with Microsoft's DEP (Data Execution Prevention) code introduced in Service Pack 2 for Windows XP.
When it is enabled (by using a compatible processor like the Athlon 64 3800+) the operating system watches for certain anomalies that often signify a virus or exploit attack, like code being executed in memory spaces where program code does not belong. In this way, buffer overflow attacks which overload a legitimate memory space allowing foreign code to be run in unprotected memory location, will be stopped short as soon as they occur.
Past, present and future...
After AMD released the Athlon 64 in September of 2003, the company seems to have taken over the driver's seat from Intel in terms of cutting edge CPU technology. While the Intel Pentium 4 features technologies like HyperThreading and SSE3, they're more like evolutionary steps. Having a processor that can run both 32 and 64 bit computing is revolutionary, and Intel is starting to feel the heat.
In fact Intel, which had scheduled desktop 64 bit processors a few years down the road was forced to scrap its plans and include AMD style 64-bit compatibility in recent desktop parts - called "EM64T." Now all that's left to complete the change over to 64-bit desktop computing is Windows XP 64-bit Edition, slated for release in April 2005. Linux has already "been there, done that," but few have noticed.
SEARCH PCSTATS

---

Use the power of Google to search all of PCSTATS and the PCSTATS Forums. Tell us what you think of this new feature - FEEDBACK?