The HomePlug Ethernet adaptor kit is Homeplug 1.0 compliant, and features maximum data transfer speeds of 14Mbps over a range of about 300M of regular home 120V AC copper wiring.
For security purposes, 56-bit DES encryption can be used to encrypt data sent between the adaptors. A shared key (set using the included configuration utility) is used to co-ordinate this between adaptors.
HomePlug Ethernet adaptor kit networks can support up to 16 computers and devices provided they each have an adaptor. The kit we reviewed included two plug/ethernet adaptors and thus supports only a pair of computers or other network devices.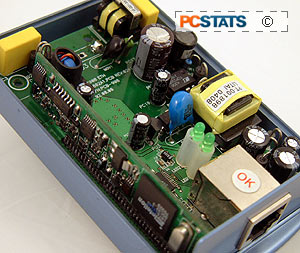 The adaptors can be plugged into any standard North American AC (110/115/120V) power plug, but may not function correctly if attached to powerbars/surge protectors. System requirements are a meager 200MHz machine with 64MB of memory and a wired Ethernet adaptor.
Power Line Networking
The Actiontec HomePlug Ethernet adaptor kit uses the HomePlug 1.0 power line networking specification, as laid out here.
Power line networking uses the built in copper wiring that every modern building posesses to transfer a network signal over short distances (up to 300M). This method works in a style similar to the way DSL Internet connections use the exisiting copper phone lines to transfer a seperate signal.
HomePlug adaptors use a different frequency than the 60Hz power grid, and 'piggy-back' on your home's wiring without interfering with the power coming into your home. It's possible for this signal to leave your home on the power grid up to the maximum signal distance of 300M, so encryption should be used for privacy purposes (although intruders would still need another HomePlug adaptor to tap into your network).
Installation
Since the Actiontec HomePlug Ethernet adaptors are a method of extending exisitng wired Ethernet adaptor signals over powerline cabling, no driver installation is necessary. Provided your computer's Ethernet adaptor is installed correctly, you just need to plug it into one of the HomePlug adaptors with the included cables and you are all set. couldn't be easier. In our test lab, we had a working network connection set up between two PCs in less than five minutes. The CD contains management software which you can use to detect devices on the HomePlug network and configure encryption with a security password.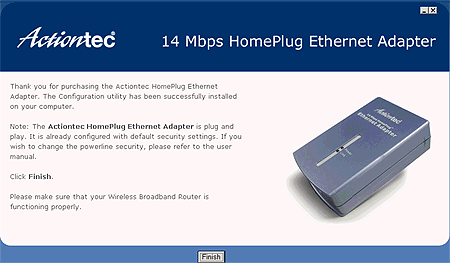 The quickstart guide is illustrated and well written, but only covers installing the kit with an existing home router or gateway. The driver CD is configured so that the configuration program for the HomePlug Ethernet adaptor kit will be installed automatically as soon as the CD is inserted. Once that is complete, a splash screen comes up informing the user of this fact.
We found this automatic installation a bit annoying and unecessary. While it could conceivably be a boon for absolute computer beginners, it has the counteractive effect of making the on-CD manual unavailable unless you 'explore' the CD, something absolute beginners may not figure out. Nonetheless, the procedure was painless enough.
Once we got to the online manual, we found it to be well written and more comprehensive than we had expected. It includes extensive information on setting up home networks which any beginner should find useful.
The Actiontec HomePlug Ethernet adaptor kit has only one method of security: 56-bit DES encryption enabled with a password. While this is not the most secure network encryption system around, it will suffice for home networks and even non-critical business ones, given that any potential eavesdropper would have to have a HomePlug compatible adaptor on hand before attemtping to break security. With these factors taken into account, HomePlug networks are definately more secure than pre-WPA 802.11b wireless networks.