Actiontec HomePlug Networking Kit Review
---
Before wireless networking became the affordable and common technology it is now, companies were grasping for a way to provide simple network access to home users without requiring them to wire up their house with CAT5 Ethernet cable.
The first iteration of this 'household networking' technology you might remember used installed phone lines to shift data. This method of networking has now been standardized as HomePNA, but never really caught on due to the scarcity of phone jacks in the typical home. A second idea was to use the copper power lines that have been a standard in every North American home since the 1930's to transfer data. This method had the distinct advantage of allowing users to plug into any wall socket when networking, but was initially slower than using the phone lines. Recently though, the HomePlug power line networking standard was adopted, capable of a reasonable 14Mbps maximum bandwidth while maintaining the 'any wall socket' convenience of the technology.
PCstats is testing out one such HomePNA solution from Actiontec, called the HomePlug Ethernet adaptor kit. The kit uses the HomePlug 14Mbps technology and comes with a pair of 14Mbps power plug Ethernet adaptors, allowing users to network two PCs together, or connect a single PC to a wired router or Internet gateway some distance away.

Actiontec HomePlug Network Kit

Includes:

Instructions, driver CD, two network cables.
Also included are a couple of 6' Ethernet cables, a quickstart guide and a driver CD containing an electronic manual. The blue plastic adaptors are the size and shape of a large AC/DC power transformer, and come without a ground plug, so they can be plugged into the wall socket facing up or down. They have a rubberized strip on each side for gripping, and feature a pair of LEDs on the front indicating power and link status. The Ethernet plug is on the bottom of the unit and accepts standard CAT5 cable.
At first glance, it might seem that power-line networking offers no advantages over wireless Ethernet technology. Wireless connections can offer higher bandwidth (with the 802.11g standard) and are not dependent on a nearby power plug.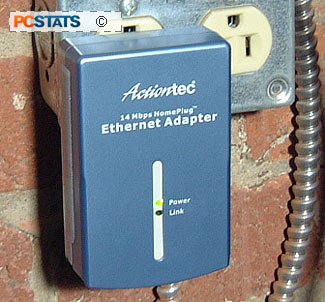 While WIFI is definately a more flexible and ultimately more useful technology, power-line networking does offer a couple of advantages that might not be immediately apparent. The most useful of these is range. By using existing cable networks, power-line networking can bridge gaps that wireless cannot and has a much larger maximum range of 300 Metres. In larger homes and offices, the technology can be useful for networking systems that would require more than one wireless access point to connect normally. It's also a slightly more secure technology for those new to networking, as the networked data is not easily accessible to instruders as is the case with an unsecured wireless network.
On the downside, Actiontec's HomePlug Ethernet adaptor kit is not significantly cheaper than an equivalent wireless setup. At a price of about $155CDN ($129US) for this kit, you could easily pick up an 802.11b setup, and a much faster 802.11g based configuration with a pair of adaptors would not be much more than that.
Of course, the Actiontec kit can transfer data slightly faster than an 802.11b wireless network, especially at a moderate distance, without the same limitations of signal strength due to metal doors, etc. Let's see if the HomePlug technology has any other advantages.