What you get for your money
As you can see, the Yepp YH-925GS is quite an attractive player. It's smaller than the original iPod, but slightly thicker and longer than the newest iPod revision.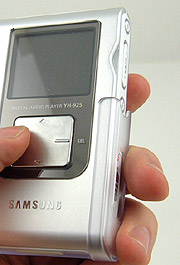 Actual dimensions are are 4.2" x 2.4" and about 0.6" thick. The device weighs 150g, or about a third of a pound.
The brushed aluminum metal casing on the front and back of the player gives it a durable feel and the white plastic grips on either side make it easy to hold on to. A four direction thumb pad provides access to the menu system and a minimal set of buttons on the right side give you manual control.
The LCD screen is the highlight of this player, and it's definitely a pretty thing. while its specs are not overwhelming, it has excellent colour reproduction and good resolution. We'd compare it to a decent digital camera LCD or a superior cell phone screen.
The 20GB hard drive ships with 18.6GB free for files and music. Supported audio file formats include MP3, WMA and secure WMA, with a potential future upgrade to Janus WMA capability. No OGG support, unfortunately. Only JPEG files are supported for viewing pictures.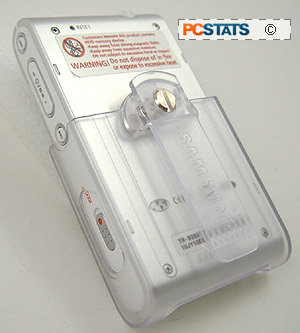 The Samsung Yepp YH-925GS ships in one of those annoyingly bulletproof plastic blister packs and includes a set of earphones, a USB data cable, a pair of USB adaptor plugs, a charger, line-in cable, belt clip, one software CD, a printed manual and a quickstart guide.
The manual is well written, illustrated and quite comprehensive. The quickstart guide will also be helpful for users new to the world of digital audio.
Software and trickiness
Ahh, the wonderful world of licensed software... When we first looked at the packaging for the Yepp YH-925GS, we noticed the fact that it claimed only to support Windows XP.
Since we know that all USB mass storage devices work just as well in Windows 2000, we were a little confused by this. Perusing the quick start guide sorted this mystery out. The Yepp YH-925GS ships with the new Napster Audio Client and as far as Samsung will tell you, this and Windows Media PLayer 10 are the only ways in which to transfer music to the player. The Napster client only works in Windows XP. grrr...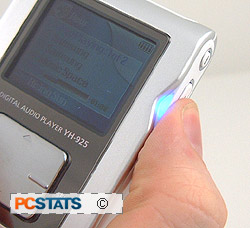 Needless to say, this questionable attempt to force users to use Napster's client (and thus guide them into buying songs from said company, one would assume) rubbed us the wrong way. We found it hard to believe that the player would not accept music files transferred by any other method, so we experimented a bit.
Using Explorer with hidden directories set to viewable, you can see the Yepp YH-925GS's file system and transfer songs into the music folder. Unfortunately though, the player refuses to acknowledge them when they are inserted manually. A little more research showed that the player transfers information from media player and/or Napster to files in the 'data' and 'parms' hidden folders. These are used to inform the player as to which files it can 'see'.
Interestingly, we stumbled on a way to get around this while creating a picture and music slide show with the included media software. When we transferred the slideshow to the player, it updated its database and apparently added all the files which we had dragged and dropped to its music directory. These had previously been invisible to the player. Interesting bug but not overly useful, sadly.
On the bright side, both Napster and Media Player 10 were easy to use and allow tracks, albums and playlists to be set up simply on the player.
The Yepp YH-925GS also supports JPEG display on its colour screen, and a copy of Samsung's Multimedia Studio is included to assist with this. As well as editing and transferring photos to the device, you can also create musical slide shows with this software. Photos can be transferred to the Yepp YH-925GS by simply using Explorer and dragging and dropping files into the appropriate directory on the player as well.
Also included on the CD is a recovery utility that is installed with the 'install drivers and utilities' option on the CD menu. This allows you to recover the player's file structure and database files in the case of the drive needing to be formatted.
SEARCH PCSTATS

---

Use the power of Google to search all of PCSTATS and the PCSTATS Forums. Tell us what you think of this new feature - FEEDBACK?