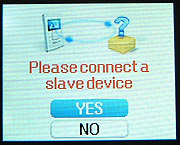 The Samsung Yepp YH-925GS uses a USB 2.0 connection, so it transfers files in a speedy manner. In our tests, 90 MP3 files amassing over 500MB took around three minutes to transfer using Windows Media Player. You're not going to be doing too much standing around and waiting unless you plan to fill the whole drive at once. You cannot play music files that you transfer this way (see the 'software and trickiness' section above for the reason why), but you can view transferred photos.
One of the nice features of this player is its ability to connect to other USB storage devices without needing a computer to act as a go-between. Using the included USB host adaptor and the 'USB host' menu option, you can connect to any USB mass storage device, browse its contents and transfer files (one at a time) across to either the USB device or the player. This is a feature that we wish more USB media player manufacturers would adopt.
Recording and encoding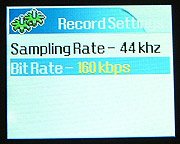 The Yepp YH-925GS can use its Line-in jack to create MP3 files from any type of audio player with a line out. Simply connect your audio device to the player and flip the record switch. The resulting MP3 files are automatically added to your playlist. The resulting files are good quality, though slightly inferior to the original source. No background noise is added though, which was nice to (not) hear.
Using the recording switch without a device connected to the line-in jack activates the voice recording mode. The mic is at the top of the unit and is about as good as you would expect for this type of device. Captured voice sounds just fine up close, but distant sounds are indistinct and touching the player near the mic results in bursts of static noise.
The 'settings' menu includes options for changing the encoding level of the resulting MP3 files The default is 44KHz encoding to 160Kbps bit-rate, but you can choose 32KHz encoding and 96 and 128Kbps files if you'd like. Recorded files are immediately cued up for playing when you stop recording.
A closer look at the Yepp YH-925GS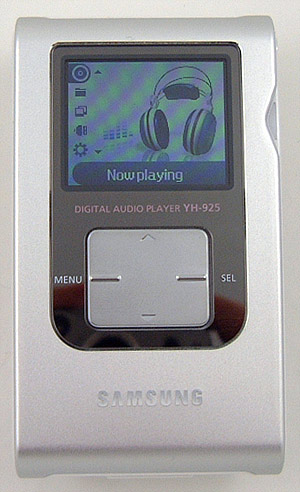 The front of the Yepp YH-925GS is dominated by the four way control pad and the 1.8" LCD screen. The brushed metal casing feels classy and durable. The four way controller has a nice feel to it, but we wished it had a center click function. The small blue LED on the right flashes whenever a control is pressed.