| | | | | |
| --- | --- | --- | --- | --- |
| | | The integrated menu system has five major sections: 'now playing', 'library', 'PhotoAlbum', 'USBHost' and 'Settings' | | The 'now playing' screen shows the current and upcoming tracks and allows you to play, pause, scan and change the volume level. |
| | | The 'library' screen allows you to browse through your stored audio files by artist, album, genre or individual track. Recorded files are also found in here. | | The 'photoalbum' entry lets you view your photos and slideshows. You can browse through the list by using the up and down directions on the control pad. Only JPEGs can be displayed, |
| | | The 'USBhost' entry allows you to connect to other USB storage devices and exchange files. | | The 'settings' menu. Backlight, contrast, LCD time off and auto power off options are here as well as recording options and a set of EQ options. You can configure the SRS sound options separately also. |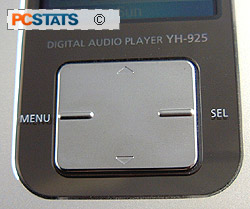 The Samsung Yepp YH-925GS's controls and interface are adequate but by no means great. Let's start with the four way control pad. In most menus, the left button acts as 'back', the right as 'select' and the up and down buttons move between options. Meanwhile, the scan and play buttons on the right side of the unit have exclusive control over changing musical tracks, playing and pausing.
Samsung have made some counter-intuitive choices with the interface though.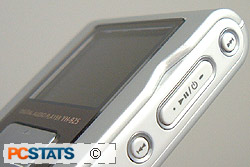 For starters, even though a track you have started will happily play while you browse through the menu screens, volume control is only accessible using the up and down functions of the control pad when you are in the 'now playing' menu section. Likewise the play and pause functions and the scan buttons.
This means that you can't control the music at all unless you are in the 'now playing' menu section. You can't even stop it from playing. It would be nice to be able to browse through your saved pictures while listening to music and still have some control over the playback, but you can't do it with the Yepp YH-925GSGS. That the player should be set up this way is inexplicable considering the dedicated buttons on the side of the unit. These should work at all times, not be dependent on the menu system.
This control issue affects the usability of the player when you have it in your pocket also, which is a pity. It's too easy to hit the control pad accidentally, switch out of the 'now playing' app and lose control of playback. Fortunately the hold switch is on top of the player and is easy to access. Another annoyance is the lack of a 'stop' button. You can pause tracks but not stop them altogether. On the bright side, the player always remembers your most recent track and where you were in it when it is turned on.