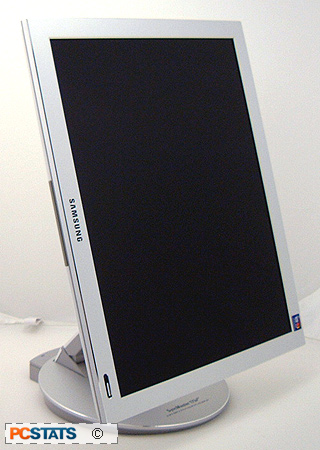 With a sticker price of approximately $570 USD, the Samsung 173P+ 17" monitor is certainly priced towards the upper-end of the 17" LCD market. Yet, compared to average 17" screens, the 173P+ offers ultra-wide 178 degree viewing angles, an industry leading 1500:1 contrast ratio, and a brightness figure of 270cd/m2.
Its pixel pitch of 0.264mm is standard, as is the native resolution of 1280x1024. Likewise, the effect of its pixel response time of 8ms (gray to gray) is debatable against a monitor which has, say, a 16ms pixel response time.
The glossy white plastic and aluminum casing make this monitor an ideal option for someone looking to replace an iMac monitor, or add one to a stylish PC. With high design sensibilities, the Samsung Syncmaster 173P+ monitor is pretty to look at, and its screen characteristics are also quite appealing.
The display is really easy on the eyes, but the lack of OSD buttons on the front bezel is annoying. All is quickly forgotten if a DVI video cable is used (no adjustments necessary). However, if you use an analog cable to hook up this LCD screen to a PC, be prepared to install the MagicTune 3.6 software in order to configure any of the display's extra Magic features, or general aspects like brightness and contrast.
The potential to pivot the display proved frustrating because the PivotPro software apparently had issues with ServicePack 2 Windows XP pro. Tests with this software on a Windows 2000 PC went by without a hitch.
The effects of ghosting are less visible against 25ms panels, but it is not entirely absent. The use of a gray-to-gray value is not as desirable in our books as a true rise-and-fall figure, since gray-to-gray has yet to be standardized by VESA. Its usefulness to consumers making comparisons is poor. As a 17" display, the Samsung 173P+ maintains excellent contrast and a vibrant picture. Office work is a given, gaming and DVD playback are just fine.
Find out about this and many other reviews by joining the Weekly PCstats.com Newsletter today! Catch all of PCstats latest hardware reviews right here.
Related Articles
Here are a few other articles that you might enjoy as well...
1. Samsung SyncMaster 243T 24-inch LCD Display Review
2. Samsung Syncmaster 173P 17-inch LCD Display Review
3. Samsung Syncmaster 172X LCD Monitor Review
4. Cornea Systems CT1904 19 inch LCD Monitor Review
5. ViewSonic P95F+B 19inch Monitor Review
5. Samsung SyncMaster 930MP 19-inch LCD Monitor Review