The inner workings of the Matrox DualHead2Go are pretty simple. The device essentially just manipulates a monitor signal from the host PC that is twice as wide horizontally. The graphics adaptor in the laptop handles all the processing, and so the DualHead2Go has no adverse affect on picture quality, speed, or CPU load.
"DualHead2Go receives input from the regular monitor connector of a computer, but it also transmits information through this connection. This is done using EDID (Extended Display Identification Data), a standard data format used by computer monitors to inform a system of their capabilities. Included in this data is information on supported display resolutions.

Resolution is measured in the number of horizontal by vertical pixels displayed at a time. DualHead2Go reports to the system that it's capable of standard resolutions (800 x 600, 1024 x 768, and 1280 x 1024) as well as resolutions that are effectively twice as wide as standard resolutions (2048 x 768 and 2560 x 1024).

With a wide-screen resolution, Windows continues to treat the monitor output as a single display, but DualHead2Go automatically divides the display image in half for use with 2 separate monitors (1024 x 768 or 1280 x 1024 on each display). One physical monitor shows the left half of this Windows "monitor" and the other shows the right half."
Once the system boots, functions similar to an LCD displays' 'Autoadjust' occur to make sure the picture is correctly positioned, and image quality maintained.
A Year of Dual Technologies
Matrox's DualHead2Go is a unique product that bridges a feature gap which previously separated office PCs from office notebooks in one very specific respect. This device isn't for everyone, but there are certainly going to be some users who have been waiting for something which addresses the lack of muli-display options on laptops.
For better or worse, there is a clear trend emerging as employees transition away from static desktop computers, towards laptops which can make the commute from home to office each day. Thus, it could only have been a matter of time before an enlightened engineer in Montreal bit down on his St.Viateur Bagel one morning and asked the question "why can't I have dual monitors for my notebook?"
Increasingly powerful notebooks have replaced desktop computers in the realm of gaming, CAD, and graphic design, so why not incorporate some multi-display functionality too?
As it is an external device, the portability aspect of the DualHead2Go is a bit of a stretch in our opinion. The prospect of lugging around a hub-sized device, power cord and monitor cable along with all the critical laptop accessories that no notebook can live without, is just not appealing. There will be some users who do, perhaps so they can deliver presentations to larger groups of people than can squeeze around a svelte 15 inch screen...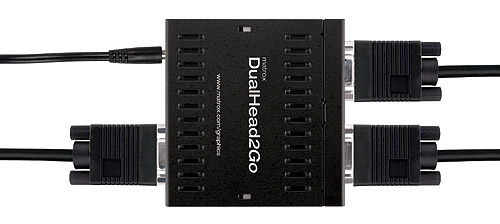 Most likely though, the Matrox DualHead2Go will find a welcome place in the dusty pile of cables that clutter the home and office desks of keen IT workers who are slowly going mad trying to manage 12 open windows on a tiny 15" laptop screen.
The Matrox DualHead2Go is available from the usual online retailers, and directly from Matrox for about $169USD. In speaking with Matrox representatives we have learned that a DVI version of the DualHead2Go is in the works, though still some ways off.