The Matrox DualHead2Go is black box about the size of a paperback book that enables laptop and tablet PC users multi-display functionality from twin side-by-side 17" or 19" LCD monitors. The DualHead2Go works off of the analog video output from an approved list of notebooks at resolutions of either 2048x768 (60, 75, 85 Hz) or 2560x1024 (60Hz). The device takes the novel approach of splitting that double-width video signal in half, with one portion of the screen going to monitor A, and the second portion going to monitor B. The end result is that two monitors will act as a single screen, yet with just one monitor cable plugged into the host computer.
A range of Intel, ATI, and nVidia mobile video graphics chipsets support the necessary resolutions the Matrox DualHead2Go operates with. Any two monitors of 1280x1024 or 1024x768 resolution which are compatible with the analog video standard can be used with the DualHead2Go.
The host computer handles all the video processing, and the device itself essentially appears as a single extra wide display to the Windows operating system. A 5V DC adaptor powers the DualHead2Go which is validated for Microsoft Windows 2000/XP operating systems. Pricing for the Matrox DualHead2Go Analog Edition has been pegged at $169USD, and it's slated to hit online stores by mid-November.
Dual Screens for Notebooks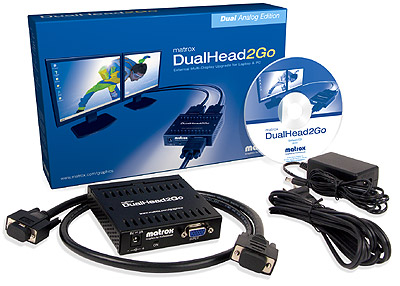 Dual monitors are often used by graphic artists, for CAD work, in financial sectors, during presentations and by individuals who simply require a larger desktop area to manage abundant amounts of visual data. The approach Matrox is taking with the DualHead2Go is an interesting one, and it certainly opens doors for corporate desktop PCs with integrated video chipsets as much as it does for the notebook market.
Typically, no-frills corporate desktop PCs come from Dell or IBM with a single analog video port. They may even lack the physical slot for a stand alone AGP videocard if graphics are integrated directly onto the motherboard.
By offering a device which enables multi-display capability outside of the PC chassis, Matrox is adding functionality to those computers that could not otherwise support twin monitors without internal hardware upgrades... with a couple caveats. Currently, the Matrox DualHead2Go device is compatible with desktop Intel integrated video chipsets only (officially anyway), it functions with just the two aforementioned screen resolutions (so dual 24" LCD panels are out of the question), and it only works with Windows2000/XP operating systems.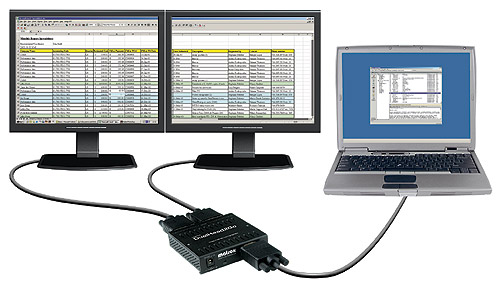 Notebook Compatibility Varies
The DualHead2Go is primarily intended to be used with notebooks, and in that respect Matrox is assembling a list of compatible models spanning well known brands like IBM, Fujitsu, Toshiba, Dell, Acer, HP, and Sony.
To answer questions of "will this product work with my notebook or desktop PC," Matrox have developed a quick little validation tool that informs consumers if the DualHead2Go is compatible with the underlying graphics hardware. That application is available here.

With respect to notebooks, the external display resolution is a function of the particular graphics chipset the laptop is equipped with. Intel GM/GME, 910GML, 915GM chipsets are capped off at a resolution of 2048x768 - good for dual 1024x768 native resolution displays. Alternatively, laptops based on nVidia Geforce 6800, FX Go5200, Go 6200/6600 will handle up to 2560x1024 resolutions - good for dual 1280x768 native resolution displays.
ATI fairs the best of the bunch with its Mobility Radeon M350/X200/X300/X600/X700, Mobility Radeon 7500/9000/9200/9600, and FireGL V3100/V5000/T2 chipsets which are compatible up to the 2560x1024 resolution as well.
So how does all this work, what's inside the black box? Well it's not as complicated as you might expect...