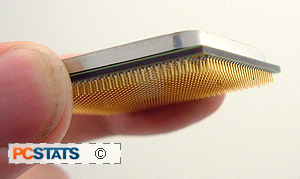 Consumers who want the best desktop processor on the market only have to look for a chip with the name Athlon64 FX etched on the heatspreader. Dual core technology holds a lot of promise, and 2006 is shaping up to be year where more mainstream applications and games can take advantage of the multi-headed beasts like the Athlon64 FX-60 processor.
Hardware enthusiasts have already seen what dual core AMD Athlon64 X2's and Intel Pentium D processors bring to the table. With both ATi and nVIDIA offering dual core processor support in its drivers, AMD has finally moved its extreme performance FX series processors over to dual core land as well. The brand new AMD Athlon64 FX-60 is an overclocker's dream. Protected under the heatspreader on a single die are two cores clocked at a blistering 2.6 GHz, paired with 1MB of L2 cache per core (2MB L2 in total).
The AMD Athlon64 FX-60 contains 233.2 million transistors and is built on AMD's latest 0.09 micron manufacturing process. The dual core CPU has a 128bit DDR memory controller and a direct 2 GHz HyperTransport connection to the rest of the system. Other goodies include full SSE3 support, EVA, and Cool 'n' Quiet.

With the release of the AMD Athlon64 FX-60, the Athlon64 FX-55 is now officially retired from the lineup. If you don't need dual core compatibility, the Athlon64 FX-57 will still be available although we'd highly recommend the FX-60 after seeing what it can do.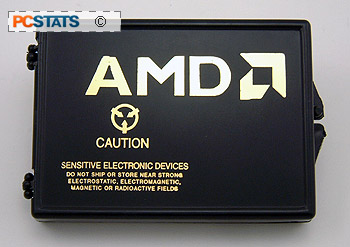 In house testing between an AMD Athlon64 FX-60 and Intel Pentium D 840 based system illustrate the decreased power consumption of a FX-60, about 40W less power at idle and about 45W at full load. Looking at total system power draw, with both cores stressed, the AMD Athlon64 FX-60 system draws comparably less power than the equivalent Intel PC under the same conditions.
When it comes to overclocking, the AMD Athlon64 FX-60 processor reached a speed of 2.88GHz in our tests. Full multiplier adjustments will keep hardware enthusiasts busy for hours on end trying to get the most out of this CPU...
When it comes to performance it's a no brainer, the AMD Athlon64 FX-60 is one hella-fast processor! At stock speeds the FX-60 outperforms the dual core Athlon X2 4800+ and completely wipes the floor with Intel's dual core Pentium D 840. In fact when running 3D tests, the AMD Athlon64 FX-60 is often 20-30% faster than that CPU.
With a retail price of $1200 CDN ($1031 US), the AMD Athlon64 FX-60 is a premium-priced CPU, but bleeding edge technology like this always is. The AMD Athlon64 FX-60 offers a lot more value than the competition can muster, and this CPU will form the basis of high-end gaming and productivity-based computer workstations with equal finesse.
Find out about this and many other reviews by joining the Weekly PCstats.com Newsletter today! Catch all of PCstats latest hardware reviews right here.

Related Articles

Here are a few other articles that you might enjoy as well...

2.