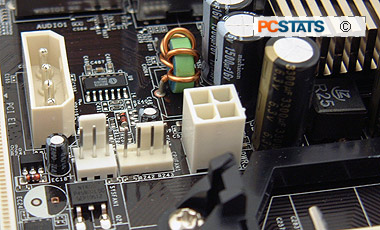 If price were of no concern, every Socket AM2 user would pick up a motherboard utilizing nVIDIA's nForce 590 SLI chipset. Unfortunately in reality, price can often get in the way getting those shiny flagship parts... Never fear though, you can still get top of the line performance if you go with nVIDIA's sleeper chipset, the nForce 570 SLI.
Essentially, the nForce 570 SLI is just missing a few PCI Express lanes for videocards and some advanced networking technology that the nForce 590 SLI boasts. Otherwise, the two are nearly identical.
The socket AM2 MSI K9N SLI Platinum motherboard comes with a whole host of goodies which include dual Gigabit Ethernet connections, IEEE 1394, an 8-channel High Definition Azalia compatible audio codec, six Serial ATA II ports and of course the board is SLI compatible! There are plenty of upgrade options via the two open PCI Express x1, three 32 bit PCI slots and 10 USB 2.0 slots.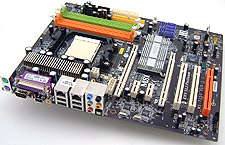 In terms of performance the MSI K9N SLI Platinum motherboard did very well in every test we threw at it. In office based applications the systems are in a virtual dead heat and would be mainly user limited. Even with only 16 PCI Express lanes to go around, the K9N SLI Platinum board handled the 3D tests without breaking into a sweat. It demonstrated that it's easily capable of keeping up with nForce 590 SLI-base motherboards. It's possible that as videocards advance, the PCI Express lane handicap will start to become noticeable, but for the time being it's definitely not apparent with current generation videocards.
MSI and overclocking go together like milk and cookies, and in this regard the K9N SLI Platinum did extremely well. In fact it is the fastest Socket AM2 Athlon64 motherboard tested to date, hitting a maximum speed of 294 MHz! If MSI only included chipset voltage adjustments, a 300+ MHz motherboard clock speed might have been possible with the AMD Athlon64 FX-62 chip. All this and the motherboard is dead silent thanks to its passive chipset heatsink.
With a retail price of $158 CDN ($140 USD, £75GBP), the MSI K9N SLI Platinum motherboard is an absolute steal, offering an excellent mix of performance and value. If you're looking for a well rounded Socket AM2 motherboard, look no further!
Find out about this and many other reviews by joining the Weekly PCstats.com Newsletter today! Catch all of PCSTATS latest reviews right here.
Related Articles
Here are a few other articles that you might enjoy as well...
- ECS RS480-M Crossfire Xpress 200 K8 Motherboard Review
- ASRock 775XFire-eSATA2/A/ASR i945PL Motherboard Review
- Epox 9U1697 GLI ULi M1697 Motherboard Review
- Asus M2N32-SLI Deluxe nForce 590 SLI AM2 Motherboard Review
- Biostar TForce 6100 AM2 Motherboard Review