nVIDIA nForce 5xx series chipsets have everything you want such in performance, features and value. The recent AMD/ATi merger will not do much to change the Athlon64 chipset picture in the short term, and if nVIDIA chipsets continue to outperform the competition, it will stay the preferred choice of consumers.
The nVIDIA nForce 570 SLI chipset is busting to the seams with a whole bunch of features that position it just behind the high end nForce 590 SLI chipset. With the nForce 570 SLI you get 8-channel High Definition audio, onboard dual Gigabit Ethernet network connections, six Serial ATA channels and of course the option to take advantage of SLI via dual PCI Express x16 slots! On top of all that, the MSI K9N SLI Platinum motherboard PCSTATS is testing today includes three PCI slots, two PCI Express x1, a single IDE channel and a staggering 10 USB 2.0 jacks. With the nForce 570 SLI chipset you do not get nVIDIA's LinkBoost but you do get several new technologies such as FirstPacket, DualNet, MediaShield and an assortment of network connection tweaks that can make gaming a hell of a lot faster over the internet!
With a retail price of $158 CDN ($140 USD, £75GBP), MSI have put together a solid upper level gaming platform which can accommodate up to 8GB of PC2-6400 DDR2-800 memory along side any Socket AM2 AMD Athlon64/X2/FX and Sempron processor. The four DDR2 240-pin memory slots (DIMMs) can supply a maximum of 2.45V - handy for overclockers looking to push the boundary. The K9N SLI's six Serial ATA II ports can operate at 3 Gb/s bandwidth and support RAID modes 0, 1, 0+1 and 5 via nVIDIA's MediaShield storage technology. Gone are the days of two IDE channels, which is rather unfortunate, and on the MSI K9N SLI Platinum, the nForce 570 SLI chipset limits us to just one. Bummer.

MSI K9N SLI Platinum Motherboard



Includes:

User's Manual, Driver CD, RAID Driver Diskette, One Ultra/133 Rounded IDE Cable, One Rounded Floppy Cable, Four Serial ATA Cables, Two Molex to Serial ATA Cables, SLI Link Card, SLI Retention Bracket, USB Bracket, IEEE 1394 Bracket, I/O Shield
MSI have created a totally fanless motherboard so there's no whinings racket from cheap little chipset fans. You know, the one's which always seem to fail six months down the road. Rather the MSI K9N SLI Platinum makes use of a simple low profile extruded aluminum Northbridge heatsink and folded fin VRM heatsink; both of which take advantage of exhaust airflow from adjacent components (socket AM2 CPU fan and VGA fan) for their cooling. The ATX motherboard comes in a nice shade of black, and thankfully with none of those annoying LEDs plastered everywhere in a vain effort to convince you that it's cool. The MSI K9N SLI Platinum is RoHS compliant.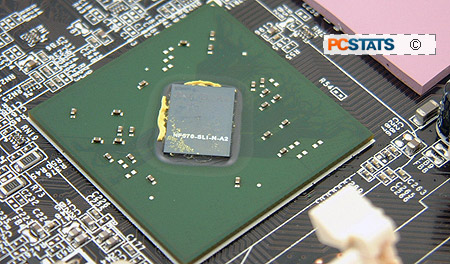 Around back at the I/O you'll find the usual assortment of connectors and jacks along with an IEEE1394 firewire and RCA composite audio output.
The 8-channel audio jacks are all jack sensing and compliant with Intel's widely adopted Azalia 1.0 spec. The board itself boasts 10 USB 2.0, two firewire and three fan headers (the CPU one is 4-pin PWM).
MSI once again include the Dual CoreCell circuit and associated D.O.T. Express software for newbie overclockers. Much of these features are duplicated in nVIDIA's nTune 5 software as well.
The nForce 570 SLI chipset (MCP55P) communicates directly with the CPU with a 1 GHz HyperTransport connection and the Socket AM2 Athlon64 processor communicates directly to the DDR2 memory (in case you didn't remember ;-). The nForce 570 SLI is a single chipset implementation.
Under SLI configuration the MSI K9N SLI platinum can supply two PCI Express x16 videocards with eight PCI Express lanes each. This is the most significant difference between the nVIDIA nForce 570 SLI chipset and the 590 SLI chipset which can supply each videocard with sixteen PCI Express lanes apiece.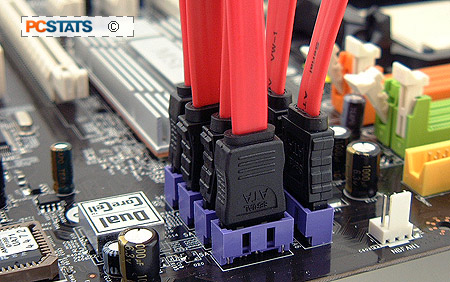 Under a single videocard setup, he nForce 570 SLI chipset supplies the full sixteen PCI Express lanes to the card. SLI mode is automatically detected and enabled with compatible videocards, there is no SLI switch to set. Further expansion on the K9N SLI Platinum comes care of two PCI Express x1 slots and three 32 bit PCI slots. MSI ships a handy SLI 'video link' card retention bracket that slides into the free expansion slot to holds it in place.
Looking around the box of bundled items included with the MSI K9N SLI Platinum motherboard, we find an assortment of Serial ATA data and power cables, a set of pretty underwhelming IDE and floppy drive rounded cables, one firewire bracket and MSI's proprietary D-Bracket 2.
The D-Bracket 2 basically acts as a Port 80 card to help diagnose problems during boot-up. Thoughtfully, the MCP55 chipset Serial ATA RAID drivers for Windows 2000/XP are provided on a floppy disk to ease installation.
The motherboard takes advantage of a 24 pin power connector and is also backwards compatible with the 20 pin variety, but it is not advisable if you're running SLI. The one enthusiast friendly feature on the motherboard itself is a handy clear CMOS button located next to the BIOS chip. If there are any problems in your overclocking adventures and the MSI K9N SLI Platinum fails to boot, pressing this red button will clear the CMOS; it's a much nicer solution than shorting out jumper pins.
Judging by what we've seen from nForce 590 SLI boards and the Socket AM2 AMD Athlon64 FX-62, I think the MSI K9N SLI Platinum should probably overclock to the 270 MHz area. But first, a closer look at the differences between the nForce 590 SLI and 570 SLI, and why the latter is a better deal...