Abstract: With the nForce 570 SLI you get 8-channel High Definition audio, onboard dual Gigabit Ethernet network connections, six Serial ATA channels and of course the option to take advantage of SLI via dual PCI Express x16 slots!
88% Rating:
Home > Reviews > Motherboards > msicomputer K9N SLI Platinum
Motherboard Highlights Photo Gallery
The MSI K9N SLI Platinum motherboard has a lot of the features you would expect from an enthusiast-class nForce 590 SLI based board. Some of the most significant highlights of the K9N SLI Platinum are pictured below.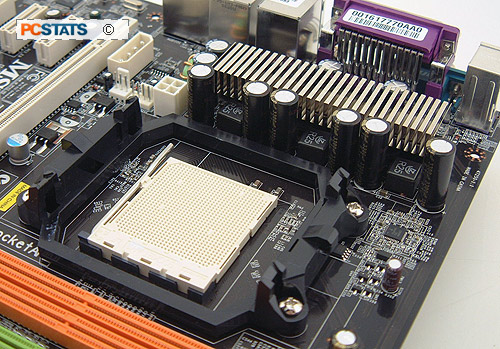 MSI cools the motherboard MOSFETs with a finned aluminum heatsink. The heatsink takes advantage of the air from the socket AM2 CPU heatsink to keep things cool. The MSN K9N SLI Platinum is compatible with PWM style heatsink fans. If you're running SLI, the motherboard may need more power that's why there is a molex power connector just above the first PCI Express slot.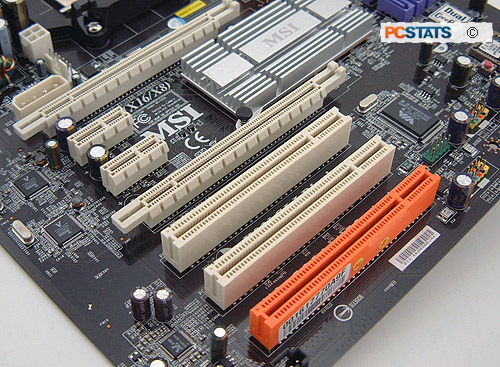 There are plenty of expansion opportunities here from the two PCI Express x1 slots to the three 32 bit PCI slots, you're pretty much covered for everything. MSI colour coordinates the USB header which should make connecting the pins easier. You should put bus mastering PCI devices in the orange PCI slot first, before filling the beige ones up.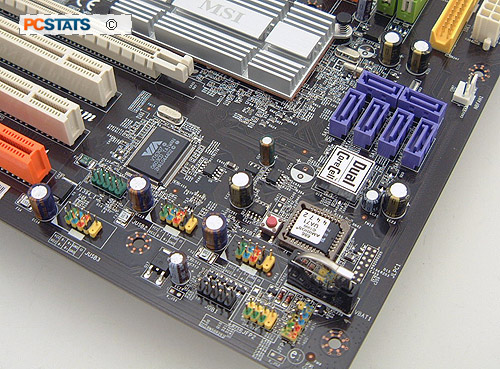 All the Serial ATA ports are located in the same area which makes organizing things easier. The red button is for clearing the CMOS, it's much easier to use than shorting out pins! When installing the MSI K9N SLI Platinum motherboard though, please take caution as knocking off the CMOS battery could cause a lot of headaches.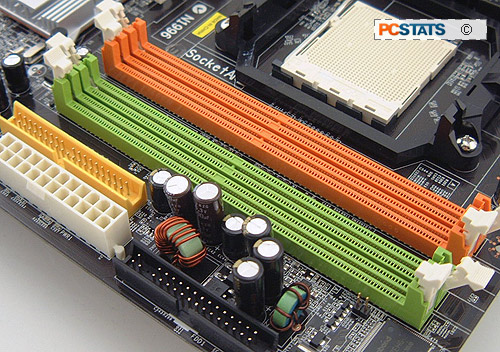 MSI colour coordinates the DDR2 memory slots which indicate which slots should be used to enable dual channel memory support. Note that the MSI K9N SLI Platinum only supports one IDE channel. The IDE, floppy and 24 pin ATX power connectors are all located at the same spot so cables are kept away from the CPU heatsink and videocards.
Next up we jump into the results for the remarkably overclocking friendly MSI K9N SLI Platinum, before moving into gaming benchmarks and office oriented tests that will illustrate just how this board is suited to your own applications. First though, a look at socket AM2 and what it means to you and your expensive copper cooler...
SEARCH PCSTATS

---

Use the power of Google to search all of PCSTATS and the PCSTATS Forums. Tell us what you think of this new feature - FEEDBACK?