Overclocking Results:
nVIDIA generally has an excellent track record when it comes to the game of overclocking, probably because its marketing department embraces this sect of the techie religion like no other! With the MSI K9N SLI Platinum motherboard just a notch below the fabled NF590 SLI in the pecking order, but equipped with just about the same feature set save for some PCI Express lanes, we're anticipating some big numbers from this board.
It better damn well deliver.
Before the overclocking process began, PCSTATS engineers in white lab coats set the CPU clock multiplier to 8x and adjusted the DDR-2 memory to run in DDR2-667 mode. These changes help ensure that neither the dual core AMD Athlon 64 FX-62 processor nor DDR-2 RAM will max out before the motherboard does - and its limits is what this review is all about after all.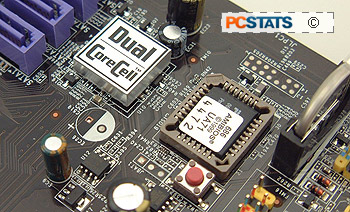 Beginning at the default 200 MHz the motherboard clock speed, we increased the frequency in gradual 5 MHz intervals. The MSI K9N SLI Platinum motherboard had no difficulties overclocking, and easily cracked the 250 MHz mark without issue. At 263 MHz the MSI K9N SLI motherboard started to show some signs of instability... so we had to lower the Hypertransport (HTT) frequency to 800 MHz, from 1000MHz.
This lowers the bus speed between the northbridge and Athlon64 CPU, and is a necessary step because the HTT doesn't take to overclocking that well itself. At a motherboard speed of 263MHz, the 1000MHz HTT is running at 1315MHz, so by lowering it to 800MHz HTT it is in effect running at 1052MHz. From PCSTATS experience overclocking AM2 processers, most motherboards can reach about 1200MHz HTT.
A megahertz later the MSI K9N SLI Platinum motherboard settled on a top overclocked speed of 294 MHz, anything higher and the system would BSOD while loading WindowsXP or crash in the benchmarks. It's a shame that the K9N SLI Platinum BIOS doesn't have any chipset voltage options, we were really hoping to crack the 300 MHz barrier but it just wasn't meant to be... In the end, we'll have to say that 294 MHz speed we achieved is currently the fastest we have seen from any socket AM2 motherboard to come across the PCSTATS test bench. That'll do MSI, that'll do...
MSI Core Cell Software
MSI's CoreCenter allows you to adjust the motherboard clock speed, CPU and memory voltage from a software interface within WindowsXP. Also adjustable by this tool that MSI provides with the MSI K9N SLI Platinum motherboard are the system fan and CPU fan speeds. Nice. MSI's Core Cell overclocking software is a bit limited in terms of pure overclocking because it lacks the ever important CPU clock multiplier adjustment. Still, the software is great for monitoring system health (voltages, temperatures and fan speed) as well as indicating the current settings in case you forget.
In terms of overclocking potential, CoreCenter is good for fine tuning within WindowsXP, however it can be a bit frustrating to use if it's the only option at your disposal. For instance, it would have been nice if the CoreCenter software would let you dial in the FSB value instead of clicking a + sign 94 times to reach 294 MHz.
That's just punishing - not like the real overclocking options in the BIOS...