Abstract: The videocard supports a whole host of TV output options including S-Video, Composite, Component output (Y, Pb, Pr) and the NX7900GT-VT2D256E-HD is also HDMI compatible if a DVI-to-HDMI cable is used.
88% Rating:
Home > Reviews > Video Cards > MSI NX7900GT-VT256E-HD
Inside Mechanics of HDCP Technology
High bandwidth Digital Content Protection (aka HDCP) is a form of digital rights management developed by Intel for digital and audio content which is intended to travel through the DVI port or High Definition Multimedia Interface (HDMI). HDCP has been spearheaded the movie industry in an effort to fight piracy. The standard was developed for the home theatre market first, for the purpose of ensuring that digital high definition content could not be successfully captured and copied between the high definition receiver and the television set or monitor that displays the signal.
You should also note that this means you will have more components to upgrade as your videocard and monitor must be HDCP compatible in order to view high definition content as it's intended. Should one or more components not be HDCP compatible content is downgraded to DVD quality.
Since HDCP is a new technology, we're going to spend the next couple pages looking at how it works, what technologies are involved and the limitations it will impose if some hardware is non-compliant. If you would like to jump right to the overclocking and gaming benchmarks for the MSI NX7900GT-VT2D256E-HD videocard you can find them here.
The Mechanics of High Definition Content Protection and Output Content Protection Management
Microsoft, as you might imagine, intends to support HD DVD and video on all its current operating systems and particularly in Windows Vista. To this end, the company is building support for HDCP into the operating system as part of its suite of DRM (Digital Rights Management) abilities called Output Content Protection Management (OCPM).
Microsoft's OCPM suite, part of the Windows Vista, comprises several video and audio encrypting functions with the stated aim of allowing content providers to trust the PC as a medium for playing their products without fears of illegal copying. Protecting copyrighted 'premium content' will be accomplished both by confirming an 'approved state' for each computer, free of potentially piracy-enabling software and hardware, and by encrypting certain types of media as they make their way through the computer.
Using the same principle as VPNs passing encrypted information over the Internet, a portion of OCMP will ensure that the data from a HD DVD or other media storage device (BlueRay for example) is encrypted as it passes between the source and the monitor/TV. Even if the encrypted data is captured, it cannot be used.
Obviously, in the current marketplace it's much easier for hardware and content providers to co-ordinate protective measures on home theatre devices which are non-customizable. The almost infinite variability of the PC has made it the centerpiece of media piracy and forced music and video publishers into elaborate and unsuccessful attempts to restrict user's abilities to copy their media.
Protected Video Path Output Protection Management or PVP-OPM
HDCP breaks down into two major components, video and audio protection. PVP OPM or Protected Video Path Output Protection Management is a component of Microsoft's OCPM. PVP OPM has drawn the most flak from industry insiders and consumers alike since this is the component which require new videocard/monitors or TVs.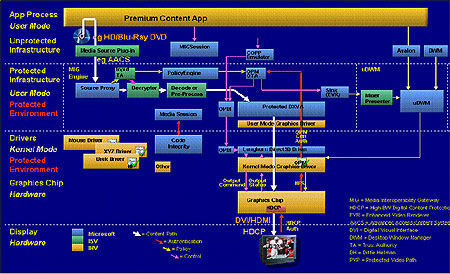 A series of identifying checks will be performed on the drivers and the hardware at startup to verify that they are approved to operate under PVP-OPM. This establishes a 'safe state' for protected content to be played. If this state is not reached, attempts to play protected media over DVI or TV-output will result in either failure or a reduced quality image.
For the purposes of PVP-OPM, component outputs will always be either disabled or have their signals constricted. This is sure to displease owners of previous generation ATI and nVidia video cards which feature component outputs for HDTV but are not HDCP compliant.
SEARCH PCSTATS

---

Use the power of Google to search all of PCSTATS and the PCSTATS Forums. Tell us what you think of this new feature - FEEDBACK?