TV output has become standard feature for virtually every videocard. Mainstream and higher end graphics cards support a whole range of output options from composite to component. This is all well and good for media resolutions and display technologies, but the next generation high definition format on the horizon is going to require much more if certain companies get their way. In an effort to combat movie piracy, next generation high definition players and high definition TVs will incorporate hardware-level encryption that cannot be disabled by the user, and so too must videocards if you plan to watch high definition movies from your computer.
The movie industry has already conceded piracy of DVD movies but it's doing its best to make sure it doesn't happen with High Definition videos. That's why Microsoft, Intel, and Hollywood are pushing computer manufacturers hard to implement some sort of hardware-level encryption to prevent the transmission of non-encrypted high definition content. With the computer industry interested in getting in to the home theatre market, the two have been working closely together on Digital Rights Management (DRM).
HDCP or High bandwidth Digital Content Protection is a hardware digital rights management tool developed by Intel to protect high definition video and audio content during transmission from the player to the screen, in whatever form those two devices may take. Essentially what this means for consumers is that we'll all need to have HDCP compatible components (player, TV, videocard, etc.) in order to view High Definition content. If one device in the chain not support HDCP, content will be downgraded to a 540p signal at best, audio to DAT quality. At the very worst, rumor has it that protected content will not play at all.... but this is mostly a baseless fear as the standard is focused on protecting HD output from being captured during transmission and copied.
With this in mind, those of you who are thinking about building an entertainment computer, media PC, or home theatre PC had better plan your purchases wisely as HDCP compatible videocards are hard to come by. Microsoft Windows Vista will natively incorporate HDCP support, so it's wise to plan ahead at this stage in the game if movies are your passion. MSI has just released its NX7900GT-VT256E-HD which is HDCP compatible - this is the first HDCP-enabled PCI Express x16 videocard from that company. That's right, this card is not just a 3D gammer's baby, it also plays nicely with High Definition hardware as well.

MSI NX7900GT-VT2D256E-HD Vidoecard




Includes:

Quick Installation Guide, Quick User's Guide, Driver CD, Multimedia CD, Serious Sam II CD, Component/VIVO Cable, S-Video Cable, 2x DVI to analog converters, Dual Molex to 6 Pin 12V Power Connector, MSI Sticker
The MSI NX7900GT-VT2D256E-HD videocard is backed up by 256MB of high speed GDDR3 memory. The videocard supports a whole host of TV output options including S-Video, Composite, Component output (Y, Pb, Pr) and the NX7900GT-VT2D256E-HD is also HDMI compatible if a DVI-to-HDMI cable is used. The videocard supports video input as well, which truly makes the MSI NX7900GT-VT256E-HD one of the best multimedia cards around on paper. We'll have to wait until the benchmarks have had a chance to speak before we decide for ourselves of course.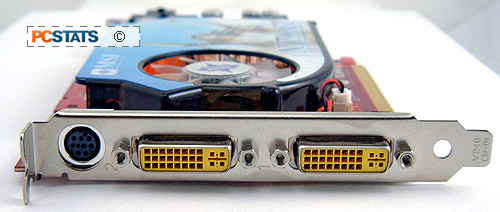 The MSI NX7900GT-VT2D256E-HD videocard only ships in the PCI Express x16 flavors you see above, so users with AG8X motherboards are out of luck and had best consider upgrading at this point. With a retail price of $334 CDN ($295 USD, £159GBP), the NX7900GT-VT2D256E-HD is actually quite a bargain, and only slightly more expensive than the most affordable Geforce 7900GT cards out there. That should help to make the NX7900GT-VT2D256E-HD a no brainer since it's more future proof than its competition.
Like all high end videocards, MSI's GeForce 7900GT series draws too much power for the PCI Express slot to handle alone, and that's why there is a six pin 12V connector on the top of the right hand corner. The MSI NX7900GT-VT2D256E-HD videocard is based on the nVidia reference design, and is a little shorter videocard than Geforce 7800 GT/GTX videocards.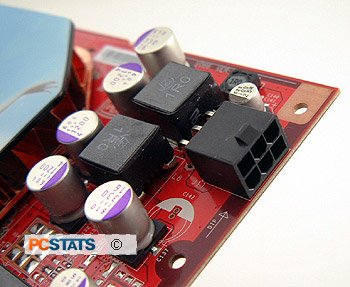 As sweet as the MSI NX7900GT-VT2D256E-HD is, you can further increase performance by getting a second GeForce 7900GT and running it in SLI with this MSI videocard. You can even run SLI without the bridge connector although that decreases performance slightly. It is no longer necessary to get two identical videocards, you can mix and match different brands as long as the nVidia GPU cores are identical (and memory capacity for that matter too).
Just keep in mind that the SLI videocards will run at the speed of the slowest card if they are clocked a little differently. Something to keep in mind since manufacturers are starting to play with core and memory clock speeds in an effort to differentiate their products.
Built on TSMC's 90 nanometer manufacturing process, the nVidia Geforce 7900GT GPU does not generate too heat which means it can get away with a single slot heatsink that produces a moderate level of noise. The heatsink on the MSI videocard comes in direct contact with the GeForce 7900GT core, as well as the eight GDDR3 memory modules which are positioned on the front.
Everything is kept cool by the 40mm heatsink fan. MSI really should have used something that's temperature controlled because the fan on the NX7900GT-VT2D256E-HD is louder than a couple other Geforce 7900GT's we've seen, and might be noticeable even when installed in a case - PCSTATS tests systems out in the open, so we really notice every buzz, whine, or screaming fan as the case may be.