Physically speaking, the 940-pin socket AM2 processor is nearly identical to the previous 939-pin Athlon64 generation, yet the way heatsinks attach to it is different in one very significant aspect; a new heatsink retention frame.
The AM2 heatsink retention frame attaches to the ASRock AM2V890-VSTA motherboard via four holes, rather than two like the previous generation K8 heatsink retention frames relied upon. The socket AM2 heatsink retention frame and metal backplate are not compatible with the previous K8 socket 754/939/940 heatsink retention frame and metal back plates, and vice-versa. This one small change has effectively retired hundreds of different socket 754/939/940 K8 heatsinks since most pre-AM2 K8 heatsinks are not compatible with the new four-post heatsink retention frame. Bummer.
Socket AM2 motherboards like the ASRock AM2V890-VSTA ship with the new AM2 heatsink retention frame pre-installed, so you don't need to worry about that. What you will need to be aware of is that existing K8 heatsinks that screw directly into the two-post metal backplate of the socket 754/939/940 series are not usable with the socket AM2 retention module, because its four-posts are positioned differently.
Unfortunately, most K8 heatsinks that use the two-posts the high-end, heavy copper coolers that offer the best performance qualities. The weight of these expensive enthusiast level heatsinks dictated a firmer attachment method than the plastic tabs of the old retention frame, and sadly their useful life is now over.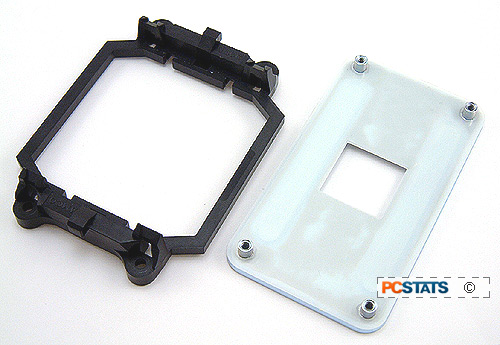 K8 heatsinks like the Zalman CNPS9500 AM2 and AMD retail AVC Z7U741001 heatsink that clip onto the socket 754/939/940 heatsink retention frame center tabs will continue to be compatible with the socket AM2 heatsink retention frame. The center tabs survived the transition to socket AM2, alongside with a new type of four-post socket 478-like integrated clip points. Existing K8 heatsinks which use a cam-lock to apply pressure on the spring clip after it has been attached to the retention frame tab will also work with the ASRock AM2V890-VSTA motherboard.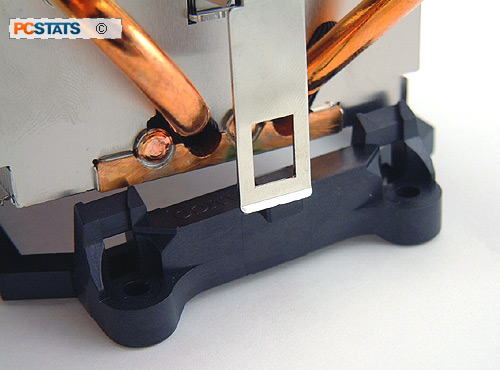 Three tab K8 heatsink clips should also work with AM2. The socket AM2 standard has also introduced Pulse Width Modulation (PWM) fan speed control, as identified by four-pin fan power cords. The ASRock AM2V890-VSTA motherboard ascribes to this standard, so either a 4-pin PWM fan or standard 3-pin fan can be used to cool the chip. With an AVC Z7U741001 heatsink strapped onto the AMD Athlon64 FX-62 processor, we set about overclocking the ASRock AM2V890-VSTA and its VIA K8T890 chipset for all its worth...