nVIDIA is generally touted as the big bear amongst the small forrest of AMD Athlon64 chipsets, but if you'd like a nice plain workstation computer there are suddenly dozens of alternative chipsets to choose from. VIA and SiS have been making significant inroads into the workstation and entry level markets for years, and this year many of each companies' respective chipsets have been slapped onto motherboards re-spun for the socket AM2 processor. Since AMD integrates the memory controller into the Athlon64 processor die directly, changes like this are relatively easy to make. While the newest technologies may be left out of these tried and true chipsets, it does make it very inexpensive to reissue them on the latest processors for budget-minded systems.
If you've been itching to upgrade to one of AMD's latest socket AM2 processors, some of which are priced well under a hundred bucks, there is a growing list of inexpensive motherboards that take advantage of stable and reliable chipsets originally destined for socket 939 generation CPUs to select from. The chipset at the top of our list for this review is the VIA K8T890 Northbridge and VIA VT82237A Southbridge.
In this review of the ASrock AM2V890-VSTA motherboard we'll be looking at how the VIA K8T890 handles itself around the socket AM2 Athlon64 FX-62 processor.
The ASRock AM2V890-VSTA Socket AM2 motherboard is the first motherboard to cross PCSTATS' test bench based on the VIA K8T890 chipset. This compact ATX motherboard has four 240 pin DDR2 memory slots which accommodate up to 8GB of DDR-2 memory (more when higher density DDR2 memory is released). Among the list of standard features on the motherboard are 7.1 channel high definition audio, an integrated 10/100 network card, and a variety of other ports and jacks.
The AM2V890-VSTA motherboard easily accommodates a PCI Express x16 videocard, although a second can be inserted into the adjacent PCI Express x4 slot for multiple monitor outputs - SLI is not supported. A PCI Express x1 and three PCI slots round out the expansion slots. It's not as feature filled as nForce 590 SLI but you can't argue with a retail price of $84 CDN ($75US, £40GBP), plus you get two full IDE channels!

| | | |
| --- | --- | --- |
| | ASRock AM2V890-VSTA Motherboard | |
| | | |
If you're looking to build a low cost computer, the ASRock AM2V890-VSTA comes out of the box with many bread and butter options that are useful to the common person. The board runs with legacy friendly 20-pin ATX power supplies, just make sure you have enough power under the hood to support a PCI Express videocard; 450W should be sufficient.
VIA K8T890 Chipset for socket AM2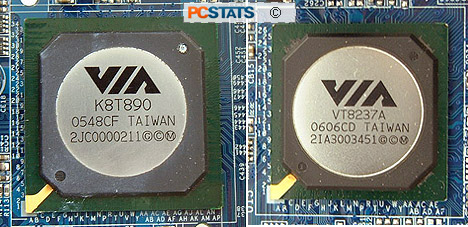 Paired up with the VIA VT82237A Southbridge, the VIA K8T890 chipset supports all K8 platforms from Socket 754 right through to Socket AM2 (CF revision). The chipset uses a 1 GHz 16/16 bit up/down HyperTransport link between the processor and Northbridge. The two VIA chipsets are connected via a 1GB Ultra V-Link connection.
The VIA K8T890 Northbridge supports a maximum of 20 PCI Express lanes, 16 of which are devoted to the videocard and the other four lanes are devoted to peripheral support via PCI Express x1 or x4 slots.
On the ASRock AM2V890-VSTA motherboard, the PCI Express x4 slot supports a second videocard for mutliple displays. Yet just so there's no confusion, the board does not support advanced 3D features like nVidia SLI or ATI CrossFire.
The VIA VT8237A Southbridge has two integrated audio controllers, a 5.1 channel AC'97 and a high definition 7.1 Azalia compatible codec. In this case ASRock chose to use the high definition option. VIA also integrate two networking MACs into the Southbridge, one Gigabit and one 10/100.
The chipset supports a maximum of six PCI bus mastering slots although it's up to the motherboard manufacturer to decide how this is implemented. The VT8237A further supports two PCI Express x1 lanes on its own, but it depends on the manufacturer how to implement all the PCI Express options. Hard drive support is divvied up between two Serial ATA (1.5Gbps) channels which can run RAID 0 and 1 and two IDE channels for up to 4 IDE devices. The VIA VT8237A also supports a maximum of eight USB 2.0 slots which should be plenty for all the keyboards, memory keys, and digital cameras you can muster.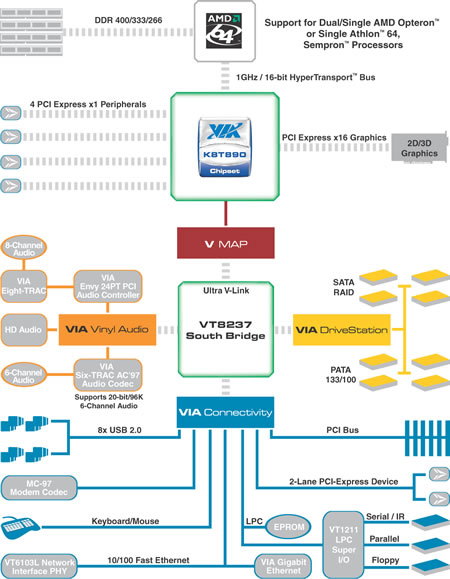 The feature set of the VIA K8T890/VT8237A combo is a bit dated when held up against the newest from NVIDIA, but again for workstation or entry level machines this isn't of great concern. VIA does have a more advanced chipset in its product lineup, the VIA K8T900, but it is beyond the scope of this review.
Next up, we take a tour of the ASRock AM2V890-VSTA motherboard highlights...