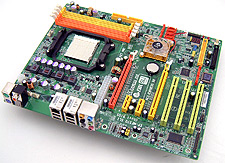 The computer industry advances continually, but if you do your homework before choosing new PC components you can adapt with the times. No technology will be completely future proof, but it's nice not to have to overhaul one's computer system every six months with something new and flashy comes along.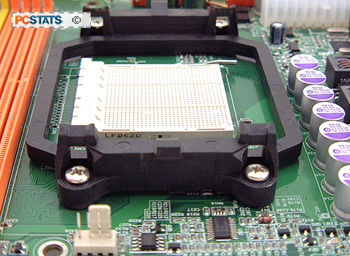 If there is one piece of advice you can walk away with from this review its that gamers and normal folk should opt for dual videocard supporting motherboards when the opportunity permits. It may not necessary be the right thing for you to adopt two videocards and kick in the graphics afterburners, but down the road you'll be glad you have the opportunity to... especially when that cutting edge videocard in your PC is suddenly on the bargain shelf for next to nothing. When we consider that a nVIDIA SLI or ATi CrossFire motherboard can be had for less than $150 CDN, it makes sense to choose this route over single PCI Express x16 boards. We're not sure how much the Epox EP-MF570 SLI will retail for but judging by its feature set it should be in the $150 range.
From what PCSTATS has seen in its evaluation of the Epox MF570 SLI motherboard, I think it's safe to say that this isn't an 'everything but the kitchen sink' kind of platform. Basic and practical features like dual Gigabit network cards, an additional Serial ATA II/IDE RAID controller, 7.1 channel Intel Azalia High Definition audio and USB2.0 are covered. Everything else is beyond the normal scope of an average user's needs.
The rear mounted 40mm fan is nice, but kind of unnecessary. The Port 80 diagnostics card is a saviour of overclockers, finicky memory modules, and just about any computer mishap which prevents the PC from booting up as it should. Expansion is well cared for, and on the EP-MF570 SLI we have two PCI Express x16 (x16, or x8 & x*), two PCI Express x1 slots and the three 32 bit PCI slots.
The Epox MF570 SLI motherboard was strong all around in the benchmarks and had no issues keeping up with more expensive nForce 590 SLI boards like the Foxconn C51XEM2AA or Asus M2-CROSSHAIR. 3D performance with SLI enabled was as good as it gets, although there may be a difference with future generation videocards.
One area where the Epox RP-MF570 SLI motherboard really excels in is overclocking. Veteran overclockers will not be surprised about this, Epox has always had a flare for this and its boards are use to being "the overclocker's choice". The EP-MF570 SLI was able to reach a blistering 335 MHz motherboard clock speed and that's mighty impressive for socket AM2 processors! Few motherboards can reach this speed and if overclocking is your game, this is one board you should definitely consider.
The Epox EPMF570 SLI is a very strong mid range motherboard with a simple collection of feature and options. It's not an overly flashy slab of PCB, but its performance makes up for its simple appearance. The Epox EP-MF570 SLI motherboard would be a great backbone of any new mainstream system.
Find out about this and many other reviews by joining the Weekly PCstats.com Newsletter today! Catch all of PCSTATS latest reviews right here.
Related Articles
Here are a few other articles that you might enjoy as well...
- Gigabyte GA-M59SLI-S5 nForce 590 SLI Motherboard Review
- Gigabyte GA-965P-DS3 Intel P965 Express Motherboard Review
- Biostar TForce P965 Deluxe Motherboard Review
- Albatron KM51PV-AM2 Geforce 6150 Motherboard Review
- ASRock AM2V890-VSTA VIA K8T890 Socket AM2 Motherboard Review
- MSI K9N SLI Platinum nForce 570 SLI Motherboard Review
- ECS RS480-M Crossfire Xpress 200 K8 Motherboard Review
- ASRock 775XFire-eSATA2/A/ASR i945PL Motherboard Review
- Epox 9U1697 GLI ULi M1697 Motherboard Review
- Asus M2N32-SLI Deluxe nForce 590 SLI AM2 Motherboard Review
- Biostar TForce 6100 AM2 Motherboard Review
- Foxconn 975X7AA-8EKRS2H Intel 975X Motherboard Review
- Gigabyte GA-8N-SLI Quad Royal Motherboard Review
- ASRock 939SLI32-eSATA2 ULi M1695 Motherboard Review
- ECS KA1-MVP Extreme Xpress 1600 Motherboard Review
- MSI K8N Diamond Plus nForce4 SLI x16 Motherboard Review
- ECS 945G-M3 Motherboard Review
- ECS C19-A SLI nForce4 SLI Intel Edition Motherboard Review
- ABIT AN8-32X nForce4 SLI x16 Motherboard Review
- Foxconn WinFast 6150K8MA-8EKRS Motherboard Review