The nice thing about computers is that if you do your homework, you can buy yourself a very modular system from the start, which can be 'renovated' later in life without much fuss. For instance if you want to play some fast paced games, you're better off picking up a dual videocard capable motherboard now, so you don't have to upgrade it later. Entry level dual videocard capable motherboards do not cost much more than standard motherboards these days, so there's no reason not to. It's a win win situation really.
nVIDIA SLI and ATi CrossFire support has dramatically increased over the past few months and can make a world of a difference when frame rates hit the fan. For instance when I play 'Ghost Recon: Advance Warfighter' on the PC I notice that the game can be a bit laggy with a single GeForce 7800GTX videocard. After installing a second 7800GTX and enabling SLI, framerates were silky smooth with AA and AF enabled!
So what options available that won't break the budget when it comes to a dual videocard motherboard? First, seek out something built on nVIDIA's nForce 570 SLI chipset; it's not top of the line but offers good value with most motherboards powered by it retailing for less than $150 CDN. The Epox EP-MF570 SLI motherboard is one such example, so let's see how it handles the gaming, and all that other legitimate stuff you call work.
The nvidia nForce 570 SLI is a single chipset AMD socket AM2 solution, and it's a little cash strapped for PCI Express lanes as compared to the nVidia nForce 590 family. The Epox MF570 SLI has two PCI Express x16 slots for dual graphics cards, and will support SLI, but with each videocard receiving 8 PCI Express lanes each instead of 16. With a single videocard installed, all 16 PCI Express lanes are devoted towards it. In terms of features the EP-MF579 SLI offers up a very practical collection; dual Gigabit network cards, 7.1 channel Intel 'Azalia' High Definition audio, an additional pair of Serial ATA II ports and a second IDE channel both of which can support RAID, and of course the hallmark Epox option a Port 80 diagnostics card. The Port 80 card displays two-digit alpha numeric codes which help troubleshoot the status of a computer if something is amiss. The EP-MF579 SLI has two PCI Express x1 slots and three 32 bit PCI slots for further peripheral expansion.

Epox EP-MF570 SLI Motherboard




Includes:

User's Manual, System Installation Guide, Driver CD, 2x Rounded Ultra/133 IDE Cables, 1x Ultra/133 IDE Cable, Floppy Cable, 4x Serial ATA Cables, MOSFET heatsinks, Rear I/O Fan, Thermistor, USB Header, I/O Shield.
This is an AMD socket AM2 motherboard, supporting all current 940-pin AMD Sempron, Athlon64 X2 and FX processors of that formfactor. It's four 240-pin DDR2 memory slots will accommodate up to 16GB of double-sided DDR2-800 memory in a dual channel configuration.
Storage options are more varied than the new Core 2 Duo motherboards offer; the Epox EP-MF570 SLI has two IDE channels, one via the nVidia nForce 570 SLI chipset and one via a JMicron 3GB/s Serial ATA II/IDE controller. There are a total of eight Serial ATA II ports on the Epox EP-MF570 SLI, six of which support RAID modes 0, 1, 0+1 and 5 through the nVIDIA nForce 570 SLI chipset. The two additional 3GB/s Serial ATA II ports can be configured for RAID modes 0, 1 but not in conjunction with the nForce 570 chipset hardware RAID controller - the two operate independently.
The Epox EP-MF570 SLI motherboard definitely shows signs of Epox's wild past with the Port 80 display and a pair of red power & reset buttons on the PCB. These are the tools for anyone contemplating a little down and dirty overclocking with this board. Epox was one of the first manufacturers to bring these kinds of tool to enthusiasts, and it's great to see them make their way down to the mainstream products such as this nForce 570 SLI based platform.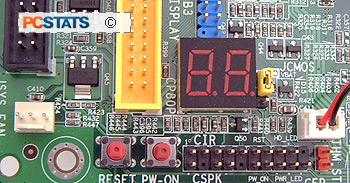 The Port 80 diagnostics standard has been around for over a decade and is more useful than custom diagnostic LEDs or beeps. Whether you're using a MSI, Asus or Epox motherboard, Port 80 codes are identical from one platform to another and really do come in handy when you're faced with a PC that refuses to start up.
Gear in the Box and (2) Instruction Manuals
One area where Epox really excels is with the manuals that come with this socket AM2 motherboard. The EP-MF570 SLI's System Installation Guide covers all the basics; from hardware installation to BIOS setup, driver installation and even RAID configuration. The guide is written in plane english so novice users should find the whole process of putting a computer together manageable.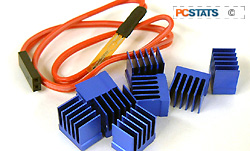 Epox include a collection of eight small blue VRAM heatsinks (with adhesive one side) which can be stuck to anything you think needs a little extra cooling. They are a the perfect size for the motherboards' power MOSFETs in fact. MOSFETs regulate the electricity for the processor and can become hot during operation. Like any electrical device, keeping it cool is a good idea.
Enthusiasts tend to focus on temperatures a lot, and so it's surprising to note that Epox have also thrown in a small thermistor sensor on a short cable with the EP-MF570 SLI motherboard.
The thermistor can be positioned by the CPU, videocard, or nForce 570 SLI chipset to monitor the temperatures, as an example. The temperature readings show up in the BIOS and in Epox's Thunder Probe temperature monitoring software should you choose to install it.
Also found in the box are a pair of white rounded IDE cables, and four white SATA cables to match. Now only if Epox would get around to making the requisite IDE and SATA headers white to match the cables...
The white rounded cables are actually pretty flashy, high quality types. Many manufacturers include rounded cables that are rigid, or just shrink-wrapped standard IDE cables. If you were to buy the Epox rounded IDE cables separately, they'd be the ones going for the $20 range. Each wire has been individually cut, so molding the around objects in the PC chassis is much easier. And that is the point of rounded IDE cables, is it not?

A 40mm rear I/O heatsink helps expel hot air from the system, but occupies the space normally reserved for the parallel printer port. It's likely that most of us no longer have any use for this legacy port, so Epox have shifted it to a motherboard header just below the last PCI slot. If you need the parallel port you will have to purchase and install the bracket yourself, one is not included. Of note at the Epox EP-MF570 SLI's rear I/O panel we find optical SP/DIF and composite audio outputs, two RJ45 gigabit ethernet network jacks, four USB2.0 headers and the 7.1-channel audio headphone jacks. A custom I/O shield is included for this odd layout.