Abstract: The Epox MF570 SLI has two PCI Express x16 slots for dual graphics cards, and will support SLI, but with each videocard receiving 8 PCI Express lanes each instead of 16.
77% Rating:
Home > Reviews > Motherboards > Epox EP-MF570 SLI
Epox EP-MF570 SLI Motherboard Highlights Gallery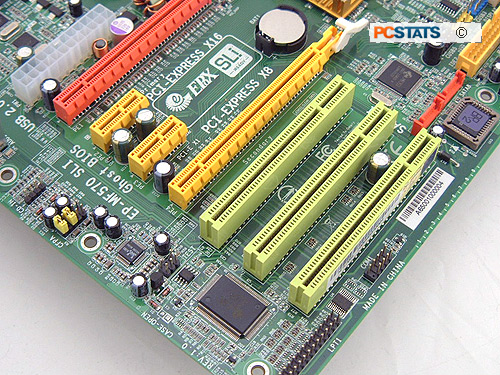 If you only plan on running a single videocard, insert it into the orange PCI Express x16 slot. If you need the parallel port for a printer which really should have been retired years ago, there is a header on the Epox EP-MF570 SLI PCB. The board does not come with the bracket however. Epox posts the pin outs for the parallel header in the user's manual so you can get the appropriate one at just about any computer store for a few dollars, or swipe one from any old 486x you might have lying around still.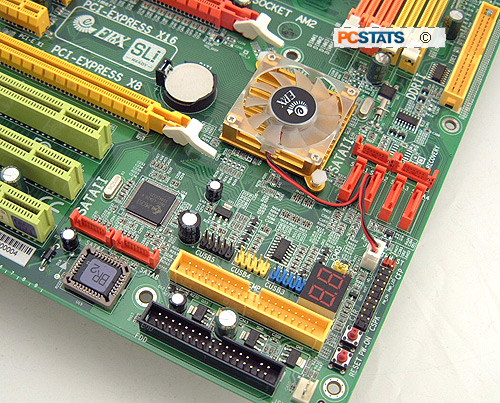 The bottom right hand corner of the Epox EP-MF570 SLI motherboard is where you'll find the Port 80 diagnostics card. If you're having problems with your system keep your eyes on that two-digit read out, it will tell you what the hardware issue is. The Port 80 reference codes are on pages 21-24 in the manual. The red power and reset buttons provide quick access when installing the system before it goes into the computer case, but with the mass of wires around this area things are going to get crowded quickly. The second IDE channel and floppy connector could have been situation in a somewhat better position, one that wouldn't block the Port 80 readout perhaps?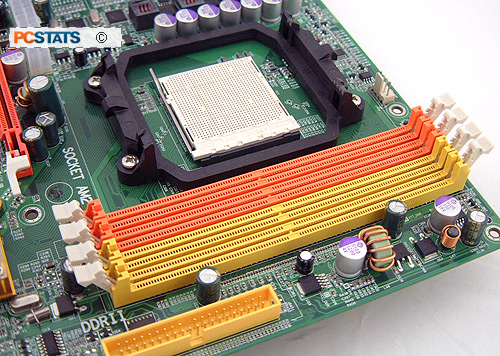 If you're an enthusiast and want to install an after market socket AM2 heatsink, please keep in mind that it may interfere with the first two DDR2 memory slots which are right up against the AM2 heatsink retention frame. Even the reference Athlon64 X2 5000+ heatsink rests a very close to the memory!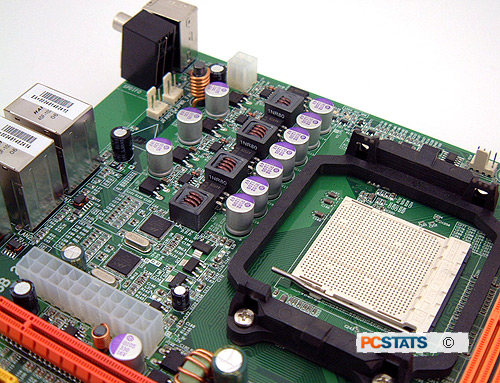 The SP/DIF and optical output connectors arrived in our test labs partially knocked off the board. Take care when putting the EP-MF570 SLI into the case or you might find these connectors get bent. The MOSFETs are lined up nicely for you to attach the eight blue heatsinks to. It's not a necessary step, but will assist cooling and they do look pretty nice too.. The Epox EP-MF570 SLI natively supports a 24 pin ATX power connector. It is also backwards compatible with 20 pin ATX PSU's.
Next up PCSTATS will be overclocking the Epox MF570 motherboard.
SEARCH PCSTATS

---

Use the power of Google to search all of PCSTATS and the PCSTATS Forums. Tell us what you think of this new feature - FEEDBACK?