Overclocking Results:
Epox has a special place in my heart when it comes to overclocking because it was the first brand to introduce "extreme" voltages to the masses. Teaming that option up with awesome overclocking potential lead to many Epox motherboards breaking speed records... way back then. These days its boards are more mellow, but Epox still has that undeniable enthusiast.
PCSTATS will be overclocking the Epox EP-MF570 SLI with some pretty high expectations. Will it hold its own?
Before the overclocking got underway, the socket AM2 AMD Athlon64 X2 5000+ CPU clock multiplier was first set to 6x and the Corsair Twin2X2048-8500 memory to run in 533 MHz mode. This is to ensure that the processor and memory do not hold the EP-MF570 SLI motherboard back, remember we're trying to test the top speed of the motherboard here.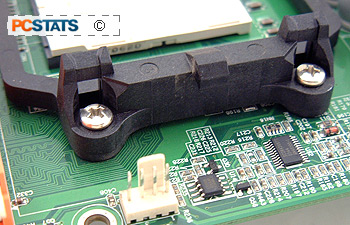 Starting at 200 MHz, the EP-MF570 SLI's clock speed was increased in 5-10 MHz intervals, a bit bigger intervals. The EP-MF570 SLI rose to the 250 MHz mark before things started to unravel. In order to stabilize the situation the HyperTransport multiplier needed to be lowered from 5x, to 4x.
Continuing, the Epox MF570 SLI got all the way up to 300 MHz before the nForce 570 SLI chipset voltage had to be bumped up to 1.7V. At 310 MHz the board acted up again, this time the HyperTransport bus was to blame.
Lowering the multiplier to 3x allowed PCSTATS to overclock the Epox EP-MF570 SLI a little bit further...
In the end, the little green Epox EP-MF570 SLI motherboard finally settled on a top overclocked bus speed of 335 MHz, making it and it's one of the fastest Socket AM2 motherboards PCSTATS has tested thus far! If you'd like to try your hand overclocking socket AM2 processors like the AMD AthlonX2 5000+, this is one motherboard to keep your eye on!
Epox BIOS Options:
This is where all the magic happens. The Epox EP-MF570 SLI BIOS is as powerful as any enthusiast class motherboard in spite of its mainstream nVidia nForce 570 SLI chipset.
Epox include enough memory options to keep a hardcore enthusiast busy for weeks. Tweaking and tuning can be a lot of fun, just write down what you've changed between each benchmark setting or you'll quickly loose your place. ;-)
The EP-MF570 SLI motherboard clock frequency can be adjusted between 200-450 MHz in 1 MHz increments for the socket AM2 processors. The PCI Express frequency can be adjusted between 100-145 MHz, but it is best left at the stock setting. There are CPU clock multiplier adjustments, and the maximum CPU voltage goes 0.2V above default. The nForce 570 SLI chipset voltage can be increased to 1.8V, DDR2 voltage up to 2.5V, and HyerTransport voltage up to 1.5V.
Up next, PCSTATS benchmarks the Epox EP-MF570 SLI motherboard!