Overclocking the Gigabyte GA-8I945GZME-RH Motherboard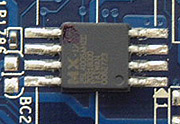 BIOS Options and Tweaks:
Curiously, at first glance the Gigabyte GA-8I945GZME-RH motherboard seems to be lacking a BIOS chip - at least one that resembles the familiar standard square CMOS Plastic Leaded Chip Carrier (PLCC) package we're all used to seeing.
Instead, what we find along side the PCI Express x16 slot is a Macronix 4Mbit SPI Serial Flash chip. This is an 8 lead surface mounted chip of about 3mm square, in a SOIC package. The tiny BIOS chip occupies hardly any board space, and is not removable. On it is loaded an Award BIOS.
Inside the Gigabyte GA-8I945GZME-RH motherboard BIOS there aren't that many options of special interest, or beyond the usual assortment of configuration tools. You can adjust the memory operating frequency between 200 and 266 MHz (DDR2-400 to DDR2-533), but there are no memory timing choices. There are no overclocking features in the Frequency/Voltage Control section.
In the Advanced Chipset Features section, the GA-8I945GZME-RH's BIOS allows you to choose between the integrated Intel GMA950 video running at all times, or disabling it when a standalone PCI Express x16 videocard is installed. At first I thought that the GA-8I945GZME-RH motherboard supported multiple display video outputs, but changing 'On-Chip VGA' to 'Always Enabled' just chews up memory, it doesn't allow for a second monitor to be attached to that VGA jack when a PCI Express videocard is also installed.
No Overclocking Support
Considering the intended market for this 945GZ Express based platform, it's not a big loss that there are no overclocking options available in the BIOS. There are some basic memory tweaks however. Anyhow, up next PCSTATS will be benchmarking this board with an Intel Core 2 Duo!
SEARCH PCSTATS

---

Use the power of Google to search all of PCSTATS and the PCSTATS Forums. Tell us what you think of this new feature - FEEDBACK?