The mainstream Intel 945GZ Express chipset offers up an affordable platform of complementary technologies for consumers on a budget. Boards like the Gigabyte GA-8I945GZME-RH are quite inexpensive, come with onboard video, have high definition content optimizations, and tick off all the major must have's for a modern day computer: USB2.0, multi-channel audio, serial ATA support and networking. When a motherboard is cheap and feature packed, it always stands out.

Gigabyte's GA-8I945GZME-RH motherboard is built around the Intel 945GZ Express northbridge and ICH7 southbridge chipsets, and is Core 2 Duo compatible. The solution is ideal for cash-strapped consumers, particularly because the Intel 945GZ variant of the 945-chipset family is evenly matched to Celeron or 'Conroe-L' processors that run on an 800MHz Front Side Bus. The Core 2 Duo natively runs on a 1066MHz FSB, so there will be a performance penalty running it on the 945GZ Express chipset at 800MHz FSB. Anyhow, keep an eye out for those Conroe-L CPUs, they will be the best processors to use with this board.

The microATX-sized GA-8I945GZME-RH accommodates a maximum of 2GB of DDR2 400/533 memory in a dual channel configuration; just enough to allow Microsoft Vista to squeeze by. The GA-8I945GZME-RH supports all existing Socket 775 processors on the aforementioned 800MHz or 533MHz Front Side Bus (FSB), including the Intel Core 2 Duo, Pentium 4/D and Celeron CPUs.
On the short list of the GA-8I945GZME-RH's hardware goodies we find an integrated Marvel 8001 Gigabit network card, Intel Azalia High Definition 7.1-channel audio codec (the necessary surround sound cable to take advantage of all 7.1 channels is an optional extra however), four USB2.0 jacks, four 3GB/s SATA connections and of course the onboard Analog Intel Graphics Media Accelerator 950 (GMA950) videocard at the rear I/O.
Compact microATX boards don't traditionally come with a lot of peripheral expansion slots, but the Gigabyte GA-8I945GZME-RH is pretty good on this front. On it we find a triplet of 32-bit PCI slots and a physical PCI Express x16 slot that accomodates a stand alone videocard, but with just four PCI Express lanes - not sixteen - and these come from the ICH7 Southbridge. If you're doing anything even remotely 3D you'll want to look towards a Geforce 7600GT class PCI Express videocard or thereabouts. The board has four 3GB/s SATA channels and one puny IDE channel that supports two Ultra DMA100/66 devices. Blame Intel for the death of IDE... especially if you're hanging onto a bunch of IDE HDDs.

Gigabyte GA-8I945GZME-RH Motherboard



Includes:

User Manual, Driver CD, Ultra/133 IDE Cable, Floppy Cable, (1) Serial ATA Cable, I/O Shield.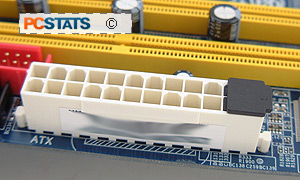 For all the wonderful features and options we've just mentioned, you can expect to pay about $115 CDN ($100 US/£55 GBP) for the Gigabyte GA-8I945GZME-RH motherboard. Married to the right low-budget CPU, it will make the foundation for a low cost workstation or basic office PC. With passive cooled heatsinks on both the Intel 945GZ Express and Intel ICH7 chipsets, there are no fans to add noise or fail in the long term either. It's always nice to have a quiet platform.
The layout of components on the GA-8I945GZME-RH are organized and generally easy to access. If a PCI Express x16 videocard is installed, it will need to removed before the DDR-2 memory will go in willingly - a common formality with microATX motherboards. The GA-8I945GZME-RH is equipped with a 24-pin ATX power (20-pin compatible) and 4-pin auxiliary 12V power connector. Gigabyte recommends using a power supply with a minimum 350W rating.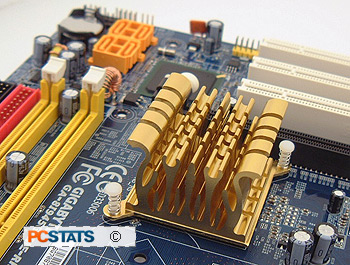 If all the hard drives in the computer you are thinking of upgrading are IDE, it's time for you to pick up some SATA disks. The Gigabyte GA-8I945GZME-RH has just one IDE channel, and that basically means it's for optical drives, and optical drives only.
Looking at the small pile of items bundled in with the board, there's actually nothing particularly special to note. It certainly would have been nice if a USB header or the 7.1 HDA surround sound bracket were included. Neither are, though we do get a single SATA, IDE, and floppy cable.
True to form, the user's manual that accompanies the GA-8I945GZME-RH is well written, and will guide newbie and expert users alike through the pertinent steps of getting this board up and running in no time. The blue motherboard PCB is well labeled, so headers and ports will all have a description close by. For a detailed guide on the subject building your own computer see PCSTATS Beginners Guide to Assembling a PC, or any of the other Beginners Guides for that matter.
DX9.0 Graphics Built In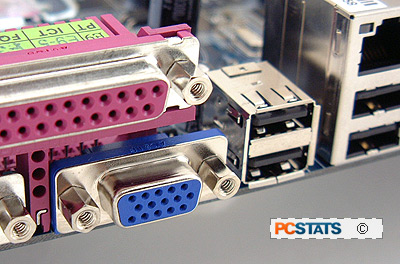 One of the nicest aspect of the Gigabyte GA-8I945GZME-RH motherboard is that is comes with it's own graphics built right in. There is a PCI Express x16 (with 4 lanes of PCI Express only) videocard slot if you wish to use a stand alone graphics card, and if you play a lot of first person shooter games you will. If you don't need the power of separate videocard there's always the integrated Intel GMA950 videocard.
The Intel Graphics Media Accelerator 950 is DX9.0 compatible and adequately suited for 2D workloads in Microsoft WindowsXP or Windows Vista.
The GMA950 runs on a 400MHz 256-bit graphics core and has an assortment of technologies to make playback of 1080i high definition (HD) content on your computer monitor run smoothly.
High definition output to an external HDTV is not supported on the Gigabyte GA-8I945GZME-RH, although devices called Media Expansion Cards (MCE) apparently bring added functionality in this respect. Intel's GMA950 supports screen resolutions as high as 2048x1536 at 75Hz via a single analog VGA jack at the rear I/O panel. PCSTATS will be running a pair of 1080p and 720p high definition video's through the onboard GMA950 graphics card to see how it handles the work load a little bit later in this review.
Next up is a breakdown on the full feature set of the Intel 945 Express series chipsets, including the 945GZ Express used on the Gigabyte GA-8I945GZME-RH motherboard.