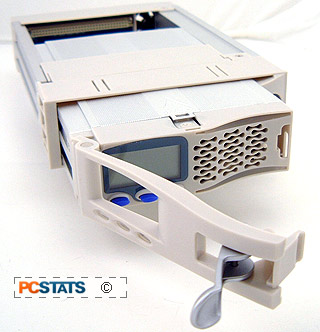 We're not going to benchmark a SATA hard drive in the IcyDock M122SKGF because serial ATA devices like this do not have any significant impact on data transfer speeds.
Powered up but hard drive inaccessible?
With many removable hard drive racks a little LED lets the operator know when the hard drive is powered up and ready to be accessed. The situation is slightly different with the IcyDock M122SKGF because the LCD receives power once the caddy is inserted into the bay. Yet, just because LCD is illuminated doesn't mean the HDD is accessible in WindowsXP (or the operating system). To ensure that the HDD is up and running, the lock must be engaged.
This little step is easily forgotten when using the IcyDock M122SKGF, and it can lead to frustrating moments. So make a habit of engaging the lock when the hard drive caddy is put into the bay, every time.
Removable Hard Drive Rack Style
Anyone who has ever had to move a large amount of data around a few different computer systems can definitely appreciate the usefulness of removable hard drive racks. Unfortunately for hardware enthusiasts, most of the units on the market are lacking in terms of cosmetic appeal, and work with IDE devices only.
The IcyDock M122SKGF is a nice looking removable SATA rack that sports a few interesting features that give it some added eye-candy appeal. The caddy has simple temperature monitoring, "enhanced hard drive cooling" and sensor alarms.
The construction of the IcyDock M122SKGF and caddy is based on extruded aluminum frame parts, and should hold up well in the long run. There is a buffer between the Serial ATA controller and HDD, but the IcyDock M122SKGF does not disrupt performance one bit. This is what we want to see from a simple device like this. It wouldn't be very useful of the removable hard drive rack limited HDD access times, or caused some instability in data transfer now would it?
With a retail price of $40 CDN ($35 USD / £20GBP), the IcyDock M122SKGF is slightly more expensive than the average hard drive removable rack, but the extra money definitely get you a nice looking SATA device.
Find out about this and many other reviews by joining the Weekly PCstats.com Newsletter today! Catch all of PCSTATS latest reviews right here.
Related Articles
Here are a few other articles that you might enjoy as well...
- Super Talent 2.5" Flash IDE 8GB Solid State Drive Review
- IcyDock MB453SPF-B SATA Multi-Bay Backplane Module Review
- Vantec NexStar GX USB2.0 Hub & HDD Enclosure Review
- Western Digital Caviar SE16 WD4000KD 400GB SATA Hard Drive Review
- Vantec SATA EZ-Swap MRK-200ST-BK Hard Drive Rack Review