Removable hard drive racks offer users an excellent option for moving large amounts of data around. With Serial ATA's ability to hot swap drives like SCSI; things really couldn't be better. Finding a nice looking removable hard drive rack can be a little challenging, you'd figure with all the competition on the market manufacturers could visually differentiate themselves a bit better. Most of what's out there is beige, has a simple handle, perhaps a key lock and air grills for cooling.
The IcyDock M122SKGF removable hard drive rack is a hot swappable Serial ATA device, with integrated LCD display and thermal alarm. It is exactly identical to the Vantec EZ-Swap MRK200-ST-BK removable hard drive rack that PCSTATS previously reviewed; just a different ODM and a different colour scheme.
The unit is beige in colour, and supports Serial ATA I and Serial ATA II hard drives. The HDD caddy is made of aluminum which should help keep high speed drives a littler cooler than plastic would. There is also a small 40mm ADDA fan at the back of the unit to draw air through the unit. On the front of the HDD caddy is blue LED illuminated LCD that displays the ambient temperature and has a few simple temperature related alarm controls.

IcyDock MB122SKGF Hard Drive Rack

Includes:

Installation Guide, Screws, Keys, HDD LED indicator Cable



With a physical size of 14.8 x 42 x 23.5 cm, the IcyDock M122SKGF is longer than a standard CD-ROM, so make sure there is enough space inside the PC chassis before installing it. All mobile racks on the market have similar dimensions, and it is a good idea to plan out the install first if you're building an entirely new PC.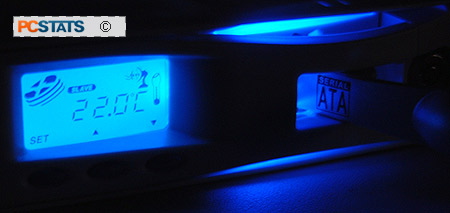 IcyDock include everything a user will need to set up the M122SKGF, aside from a Serial ATA hard drive. The installation iuide is thin, but detailed and to the point. It explains everything you'll need to get the removable rack functioning with an existing PC system and HDD.
The construction of the IcyDock M122SKGF is top notch, and the quality is definitely good. The aluminum has a nice scratch-resistant anodized surface. There are no sharp edges to cut fingers either.
There are not many features to adjust with the IcyDock M122SKGF, so it is dead easy to set up. One thing lacking with the IcyDock M122SKGF is any sort of backwards compatibility with the companies' previous removable hard drive racks, or IDE units for that matter. We mention this just on the off chance that users may have this misinterpretation about the IcyDock M122SKGF's capabilities. It would be really great to have a caddy with an IDE to Serial ATA converter built in so one device could work with either standard, but that is not the case here. The SATA versions cannot be used with the IDE bay, and vice versa.