Abstract: With a top of the line motherboard like the MSI Computer 975X Platinum, you're getting a nice looking slab of PCB with a healthy dose of enthusiast friendly features to match.
83% Rating:
Home > Reviews > Motherboards > MSI Computer 975X Platinum
Motherboard Highlights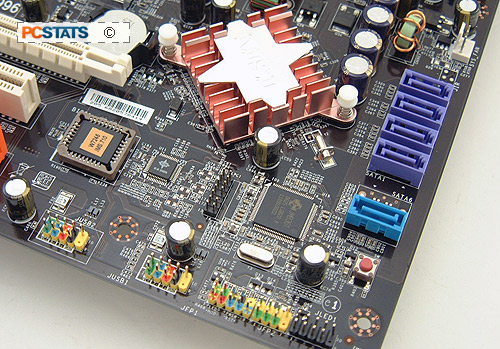 The bottom right hand corner of the MSI 975X Platinum motherboard is very busy. Here you'll find five Serial ATA II ports along with the USB headers and front panel I/O connectors. The big red button is for clearing the CMOS, much easier to use than a jumper. The light blue SATA header is provided by the JMicron JMB361 chipset. RAID comes care of the Intel ICH7DH southbridge chipset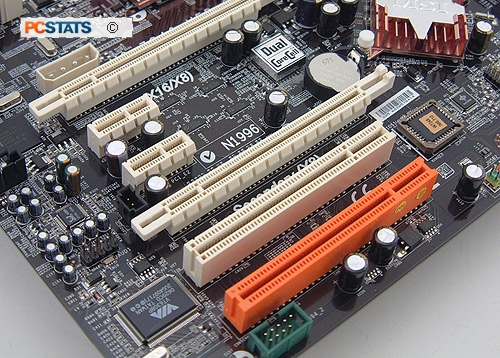 MSI places the two PCI Express x16 slots far apart from each other which is good. If you are to run two videocards, the MSI 975X Platinum motherboard automatically splits the PCI Express x16 bus equally between the two slots. PCI bus mastering devices go in the orange slot first.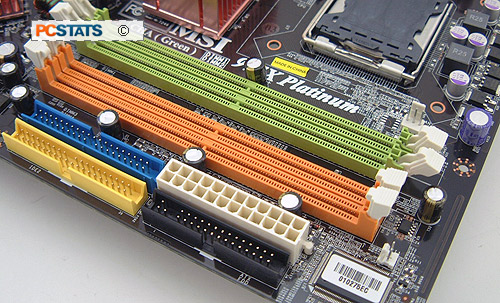 MSI does an excellent job at keeping all the large and bulky cables together in one area. When installing the DDR2 memory please remember that the colours represent one memory channel, not which slots to occupy with one pair of memory. To enable dual channel memory support, you'll need identical pairs, one in green and one in orange. The 975X Platinum motherboard is compatible with legacy 20 pin ATX power supplies, but it's recommended to use a 400W PSU which as a 24-pin power connector.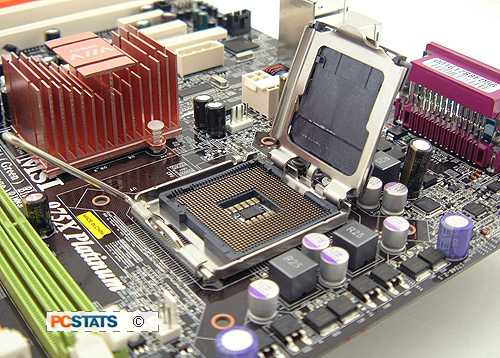 There is plenty of space around the Socket 775 so you can install larger after market heatsinks if you choose to. That's good news for overclockers who like to use water or phase change cooling rigs, and for low noise enthusiasts too. The passively cooled Intel 975X Express Northbridge generates a fair amount of heat, so maintain good airflow in the chassis.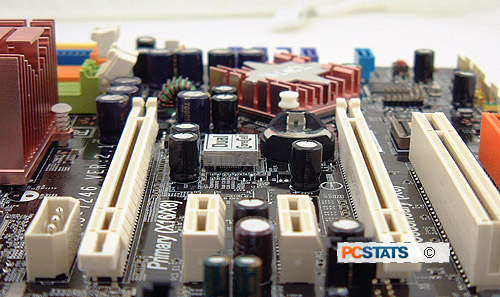 If you plan on running two high powered PCI Express x16 videocards (like ATI CrossFire), you will need to attach a molex power connector to the auxiliary power connector just above the primary PCI Express x16 slot. The board mounted components here are all well below the bottom edge of videocards for good clearance.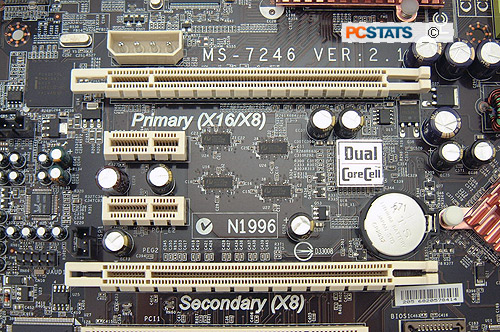 Two PCI Express x1 slots are placed in between the two PCI Express x16 slots, even with dual slot videocard at least one of the PCI-e x1 slots will still be useable. The retention locks on the PCI Express x16 videocard slots are weak, if even non-existant. If you're going to a LAN party, make sure your videocards are properly seated in these slots before booting up your PC for the first.
SEARCH PCSTATS

---

Use the power of Google to search all of PCSTATS and the PCSTATS Forums. Tell us what you think of this new feature - FEEDBACK?