After a relatively uneventful first half of the year, 2006 is definitely going out with a bang. The amount of innovative and totally new hardware we've seen in the last few months has certainly taken us for a wild ride. From the ATi/AMD merger to Intel's awesome Core 2 Duo processor, then Core 2 Quad, and new AMD Quad FX (4x4) the computer world has changed dramatically in the last 6 months.
The Intel Core 2 Duo is definitely the one processor with the greatest impact on the computer landscape, and for good reason. While the Pentium D might have been second fiddle to AMD's Athlon64 X2, the Core 2 Duo is simply a superior design to any other CPU currently available. Not only is the Core 2 Duo fast, but it also addressed all those nasty issues tangled up in Netburst... processor heat output and energy consumption to name just two. By the fourth quarter of 2007, you and many many other people will have quad core processors, and it will seem like eons ago when 'oldtimers' used PCs with just a single core CPU.
Okay, so Core 2 Duo is the bomb, and you're ready to upgrade into one - now what? Well first on your list should be a killer fast motherboard. There are many motherboards vying for your money, and since performance of most boards on the market is the same (it's true), it's basically left up to features to settle the score. With a top of the line motherboard like the MSI Computer 975X Platinum, you're getting a nice looking slab of PCB with a healthy dose of enthusiast friendly features to match. The MSI 975X Platinum utilizes the Intel 975X northbridge and Intel ICH7DH southbridge chipsets. It supports all Socket 775 processors that operate on a 1066/800/533MHz FSB. This includes the Intel Core 2 Duo/Extreme, Pentium 4/D/XE and Celeron D to name just a few.
Standard equipment includes an Intel PCI Express Gigabit network card, IEEE 1394a, a Realtek 7.1 channel Intel Azalia High Definition audio controller and an additional Serial ATA II/IDE RAID (0,1,0+1) controller. There are five 3GB/s SATA connections and two IDE channels in total. Expansion is possible through the two PCI Express x16 slots, two PCI Express x1 slots and two 32 bit PCI slots for legacy devices. The Intel 975X Express chipset is compatible with ATI's CrossFire technology which means you can run two videocards for dual rendering goodness, sweet! With a retail price of $192 CDN ($170 US, £89 GBP) the MSI 975X Platinum motherboard offers you an excellent high end alternative. The board accommodates a maximum of 8GB of DDR2 800/667/533 memory in a dual channel configuration - more than enough for Microsoft Windows Vista to run smoothly.

MSI 975X Platinum Motherboard



Includes:

User's Manual, Quick Installation Guide, Rounded IDE Cable, Rounded Floppy Cable, Four Serial ATA Cables, 2x Molex to Serial ATA Power Cable, USB Bracket, IEEE 1394 Bracket, I/O Shield, CPU Installation Tool
The MSI 975X Platinum is full size ATX motherboard at 305 x 244mm in size. The motherboard layout is excellent but then again MSI has always been good here. The main 24 pin ATX, IDE and floppy connectors are located to the right of the DIMM slots which keeps those large cables away from the other system devices.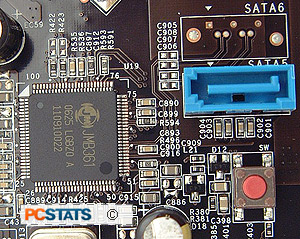 If you plan on running a high end Intel Core 2 Duo system, you're advised to upgrade your power supply to something that's ATX2.0 compatible and has an ESP12V connector. The MSI 975X Platinum will run on older power supplies but older units are not designed to handle the power requirements of modern machines. A compatible power supply is definitely required if you plan on running a dual videocard setup.
The MSI 975X Platinum motherboard is compatible with ATi's CrossFire technology, that's why there are two PCI Express x16 slots on the motherboard. That means you can run two ATi Radeon graphics cards together for more rendering power. Each slot gets eight PCI Express lanes when this configuration is employed, otherwise the primary slot has the full 16 PCI express lanes to itself.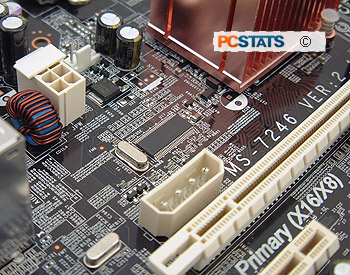 It's nice that MSI place the two PCI Express x16 slots far apart. Dual slot videocard coolers have become standard gear, so cards to closely positioned create hot spots. With the 975X Platinum at least you get some space for air to get in. The Intel 975X and ICH7DH chipsets get quite warm, but to keep noise at a minimum large passive heatsinks are used. This motherboard will operate best with good internal system airflow.
The MSI 975X Platinum motherboard is equipped with a JMicron 8361 Serial ATA II/IDE controller. Intel has done away with an IDE channel in the ICH7, and this chipset brings one IDE, and one extra SATA header back into the fold. The JMicron channels are easily identifiable because the slots (SATA and IDE) are blue in colour.
The user manual is well done, providing novice users with enough guidance to make it through hardware installation in a breeze. It's great how MSI explains everything down to the tiniest detail while talking in an easy to understand language. The quick installation guide is another matter, it's not helpful at all.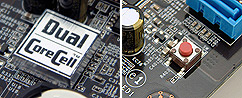 MSI colour coordinates the memory slots with green and orange colours to indicate memory channel (as in A or B), rather than which slots a pair of memory modules should occupy to enable dual channel memory support. With the MSI 975X Platinum, you must put the memory in different colour slots in order to enable dual channel memory support.
Dual CoreCell (dual for the two processors) is the fancy name for MSI's IC which controls things such as dynamic overclocking and voltage control, fan adjustment and temperature monitoring. Most enthusiast grade motherboards come with a similar feature. CoreCell is an excellent tool for novice enthusiasts who want to get into the world of overclocking, but don't yet know where to start. Just be careful though because CoreCell does offer values high enough to damage hardware if you're not careful!