Microsoft, Intel and AMD are all getting into the home entertainment industry. If you've been thinking about a digital Home Theatre, you'll be happy to hear that it's easier to do now than ever. With all the options when it comes to motherboards, videocards and cases, it's almost like being a kid in a candy store!
ASRock has put together a pretty nice integrated MicroATX motherboard in its ALiveNF7G-HDready. Based around nVIDIA's GeForce 7050PV and nForce 630A chipset, the motherboard supports all of AMD's Socket AM2 Athlon64 processors.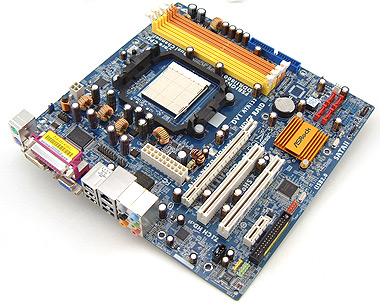 We were pleasantly surprised at the overclocking ability of the ASRock ALiveNF7G-HDready. It's not designed to be an overclocker's motherboard but if you feel bored one day and want to push, you could probably squeeze out 312 MHz like PCSTATS did.
The ALiveNF7G-HDready motherboard has a decent number of integrated peripherals which include 2x IEEE 1394a ports, Gigabit networking and an Intel Azalia compatible High Definition 7.1 channel audio controller, not to mention Geforce 7050 integrated graphics.
All this and the ASRock ALiveNF7G-HDready motherboard retails for $99 CDN ($93 USD, £46 GBP), Quite a steal. The board will also support a PCI Express x16 videocard, a necessity if gaming is in the your cards.
The ASRock ALiveNF7G-HDready's good points include two video output options on the rear I/O (analog and DVI). If you need a low cost workstation PC, this platform does support dual monitors. Get yourself a DVI to HDMI converter and you've got a machine that is capable of outputting HDCP enabled high definition movies to your HDTV. We would have liked to see ASRock include other video output options like S-Video, composite, Component Output or even HDMI too. So as a HTPC motherboard the results are a little mixed... it can fulfills the task, but lacks some of the core media standards to be really versatile in that regard with external displays.
On the other hand, when playing back HD content on your computer monitor, the ASRock ALiveNF7G-HDready handled the load well. PCSTATS tested this by watching the Blu-Ray movie, The League of Extraordinary Gentlemen. CPU usage with PureVideo enabled hovered around 55%, and to our surprise disabling PureVideo resulted in lower CPU usage by the system, down to 50% on average. In any case both situations give sufficient CPU resources to background tasks so you can run things in the background while you're watching a movie. It should be noted that the HD movie played back smoothly, and that we followed ASRocks guidelines by installing a minimum 2GB of RAM and a CPU about as powerful as a Athlon64 X2 5200+ processor.
Application benchmark performance of the ASRock motherboard is good overall. If you're a 3D gamer, the onboard GeForce 7050 videocard is not powerful enough to play modern games. Get yourself a stand alone videocard like the GeForce 8800GTS 320MB, or ATI equivalent.
The ASRock ALiveNF7G-HDready is a good platform for workstation needs, with HD content viewing on the PC entirely accessible. As a HTPC, the board lacks sufficient connectors to really make it on its own. The DirectX 9.0C onboard Geforce 7050 videocard is compatible the demands of Microsoft Windows Vista's AeroGlass feature, just slap in a processor, some memory and viola you've got yourself a decent workstation box.
Ultimately, ASRock's ALiveNF7G-HDready is a well rounded integrated MicroATX motherboard that should serve the needs of users on a budget. We like that its integrated videocard can handle H.264 playback smoothly (with minimum RAM/CPU levels met), but were really left wishing it had some dedicated HDTV video output connections... Finding the motherboard may be difficult, but if you end up snatching one up, on the whole it's a nice solution to build up from.
Find out about this and many other reviews by joining the Weekly PCstats.com Newsletter today! Catch all of PCSTATS latest reviews right here.
Related Articles
Here are a few other articles that you might enjoy as well...
- ECS G33T-M2 Intel G33 Express Motherboard Review
- MSI P35 Platinum Intel P35 Express Motherboard Review
- ECS NF650iSLIT-A nVIDIA nForce 650i Motherboard Review
- Gigabyte GA-P35-DQ6 Intel P35 Motherboard Review
- ECS AMD690GM-M2 AMD 690G Motherboard Review