Motherboard manufacturers are finding ever more creative ways to expand the scope of their products; task one, the all digital home theatre! If you've ever wanted to build a little entertainment computer, now is an ideal time to start. True geeks have been building HTPC's for years, heck I built my first back in 1999! What has changed recently is that the primary components of a home theatre computer have advanced in lock step with the shift from Standard Definition to High Definition. Translated - for less fuss you can get much better quality video and audio out of a PC nowadays.
ASRock, which is best known for its budget motherboards, has put together a decent integrated HTPC motherboard called the ALiveNF7G-HDready. With onboard video care of a Geforce 7-series videocard and nVIDIA's PureVideo acceleration technology, this compact MicroATX mobo is the basis for a very versatile little rig. Based around nVIDIA's single GeForce 7050PV / nForce 630A chipset, the ASrock ALiveNF7G-HDready supports Socket AM2 AMD Sempron, Athlon64 X2 and FX processors. Standard features include two IEEE 1394a jacks, Gigabit networking, 7.1 channel High Definition Azalia audio and an integrated GeForce 7050 videocard. That integrated graphics component supports dual monitors by the way.
In terms of expansion, the ALiveNF7G-HDready has four DDR2 memory which accommodate up to 8GB of DDR2-800 memory. There's a PCI Express x16 slot for a standalone videocard if you feel the onboard is not enough (say, for gaming), a PCI Express x1 slot for high bandwidth devices and two PCI for legacy devices. There are four Serial ATA II slots which support RAID (0, 1, 0+1, 5). The ASRock ALiveNF7G-HDready is also pretty aggressively priced, retailing on average for about $99 CDN ($93 USD, £46 GBP) .
The ASRock ALiveNF7G-HDready has two computer monitor video output options; a 15 pin DSub analog output port and a digital DVI port. That means if you want to hook up a computer based on this motherboard to a HDTV, you'll need to find a DVI to HDMI converter. Luckily those converter cables are easy to find and not expensive, usually about $15 US. The ALiveNF7G-HDready has no problems playing H.264 HD-DVD or Blu-Ray movies at resolutions of 720P, 1080i / 1080P with a minimum 2GB of RAM installed and a CPU at least as powerful as an Athlon64 X2-5200+. HDCP support within the GeForce 7050PV chipset means that you can watch copy right protected movies (virtually all HD-DVD and Blu-Ray movies out there right now) at maximum resolutions.

ASRock ALiveNF7G-HDready Motherboard



Includes:

User's Manual, Driver CD, Ultra/133 IDE Cable, Serial ATA Cable, Floppy Cable, Molex to Serial ATA Power Cable, I/O Shield, COMl port bracket, HDMI-SPDIF connector cable.
Considering the lack of real estate on the ASRock Alive-NF7G-HDready PCB, the motherboard layout is pretty good. Don't put the User's manual away just yet, you'll need it get the pin outs on the USB headers and front panel I/O connected properly.
The rear I/O has the most important ports and connectors, rather than resolving them to headers. There are four USB 2.0 slots and one IEEE 1394a port on the back, so you can connect keyboards, mice, or external hard drives without much rearranging. Here you'll also find the DVI and analog monitor outputs. The ALiveNF7G-HDready supports two monitors on the motherboard at the same time, although HDCP-protected content can only be played back on one the monitors. The GeForce 7050PV supports HDCP so you can run those High Definition Blu-Ray and HD-DVD movies at full resolution. Get yourself a DVI to HDMI converter and you can connect your HDTV the computer.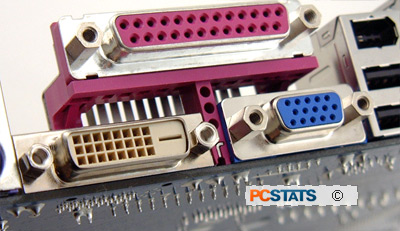 The board does incorporates High Bandwidth Digital Content Protection (HDCP) into it. This is a form of Digital Rights Management developed by Intel for high definition digital video and audio content.
The HDCP signal travels through the digital DVI or High Definition Multimedia Interface (HDMI) to HDCP compatible display's. This is supposed to ensure that only legitimate High Definition content is played, if the HDCP keys don't match or are missing content plays at a reduced quality.
H.264 content on Blu-Ray or HD-DVD discs supports a wide range of resolutions, 720P, 1080i and 1080P, which are ok with the ASRock Alive-NF7G-HDready. Just remember that the motherboard only supports DVI output so if you want to watch videos, you'll need to get yourself a DVI to HDMI converter. For good H.264 content decoding, ASRock note a minimum system configuration consisting of at least 2GB of memory and a AMD Athlon64 X2 5200+ or better processor.
The onboard GeForce 7050 videocard DirectX 9.0C compatible which means it's Microsoft Vista ready should you choose to use that operating system. When you consider all the positives from the motherboard and its low price, ASRock has a winner here.
Since ASRock has been talking up the High Definition capabilities of its Alive-NF7G-HDready motherboard all over the place it is odd that the motherboard did not feature a HDMI jack or any other form of TV output (Component, S-Video, Composite). Good thing that there are DVI to HDMI converter cables available, that and the converter cables are cheap and easy to find.