Overclocking is alive and well! PCSTATS has all the details you need to see at a glance to know which board is best. The chart we've compiled below lists the highest overclocked Front Side Bus speeds we were able to achieve while maintaining 100% stability.
Maximum Intel Motherboard Overclocking Results
Motherboards
Max FSB
(MHz)
Ranking
Gigabyte GA-X38-DQ6 (Intel X38 Express)
525
Biostar TP35D3-A7 Deluxe (Intel P35 Express/DDR3)

512

MSI P35 Platinum (Intel P35 Express)
504
Biostar TP35D2-A7 (Intel P35 Express)
483
Gigabyte GA-P35-DQ6 (Intel P35 Express)
482
Asus P5N32-E SLI Plus (nVIDIA nForce 650i SLI)
472
ECS PN2 SLI2+ (nVIDIA nForce 680i SLI)
450
MSI P6N SLI Platinum (nVIDIA nForce 650i SLI)
435
Abit AB9 Pro (Intel P965 Express)
420
Asus P5B Deluxe/WiFi-AP (Intel P965 Express)
420
ECS NF650iSLIT-A (nVIDIA nForce 650i SLI)
412
Asus P5N32-SLI Premium (nVIDIA nForce 590i SLI)
410
Gigabyte GA-965P-DQ6 (Intel P965 Express)
406
Asus P5B-E (Intel P965 Express)
406
Asus P5W64 WS Professional (Intel 975X Express)
400
Abit AW9D-MAX (Intel 975X Express)
385
MSI P965 Platinum (Intel P965 Express)
375
Foxconn 975X7AB-8EKRS2H (Intel 975X Express)
368
MSI 975X Platinum (Intel 975X Express)
360
Foxconn P9657AA-8KS2H (Intel P965 Express)
352
Gigabyte GA-965P-DS3 (Intel P965 Express)
352
ECS PN1 SLI2 (nVIDIA nForce 590i SLI)
350
Epox EP-5P945 Pro (Intel 945 Express)
350
Biostar Tforce P965 Deluxe (Intel P965 Express)
341
Biostar P4M890-M7 (VIA P4M890)
336
Foxconn G9657MA-8KS2H (Intel G965 Express)
333
Gigabyte GA-945PL-S3 (Intel 945PL Express)
255
Typical Test System Specifications: Intel Core 2 Duo E6600 (2.4 GHz), 2GB Corsair Twin2X2048-8888C4DF DDR2 Memory, MSI NX7800GTX-T2D256E. Please see individual review for more specific test details.
* - Tested with Intel Core 2 Duo E6750 (2.67 GHz) and 2GB Corsair Twin3X2048-1800C7D DDR3 memory.
If you're new to Overclocking and not sure what to do, check out these two excellent Guides for some pointers:Overclocking the CPU and Memory, Overclocking the Videocard
For a mainstream motherboard, the Biostar TP35D2-A7 motherboard overclocks pretty darn well. Reaching 483 MHz FSB puts it within the top five fastest motherboards PCSTATS has tested thus far!
Biostar Budget Board Supreme!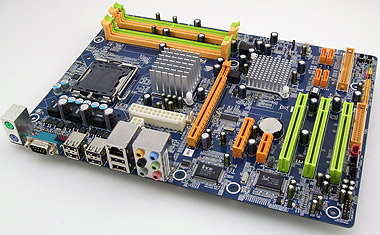 The Intel P35 Express and ICH9 chipset combo is well known for its stability and performance, and now low cost motherboards using are available. The Biostar TP35D2-A7 motherboard is affordable, and well paced - both excellent qualities for a computer part.
With a retail price of $108 CDN ($111 US, £54 GBP), the Biostar TP35D2-A7 motherboard only the bare basics; Gigabit networking, 7.1 channel audio, a sprinkling of SATA and one IDE channel. There is ample room for expansion though.
The TP35D2-A7 is as plain jane as it gets, but its passively cooled heatsinks run silently, and the majority of ports and connectors a typical office PC require all all there - save for that pesky parallel printer port. We'd advise maintaining good airflow in the PC case, the chipset heatsinks are compact and if overclocked the chipsets might sweat it out.
Where the Biostar TP35D2-A7 really excelled was in the benchmark testing. For a part that costs just over $100 CDN, this motherboard is a real monster. This board kept up with motherboards two to three times as expensive in SYSMark 2004 to PC WorldBench 5.0 and Super Pi. Just goes to show you that an affordable boards stocked with excellent high speed memory and a overclocking friendly Intel Core 2 Duo E6750 can make a winning combination. Gaming results are particularly nice.
Just because the Biostar TP35D2-A7 is intended for the mainstream market doesn't mean that it's totally tame. The motherboard reached a very sweet overclock of 483 MHz FSB. On the whole Biostar has put together a very attractive low cost Intel P35 Express motherboard with its TP35D2-A7. It doesn't have as much flair as some of the other motherboards PCSTATS has benchmarked, but you'll certainly save on the sticker price. Ue the money you save and get that sweet videocard or processor you've been lusting after. Those components usually garner more attention anyway. ;-)
Find out about this and many other reviews by joining the Weekly PCstats.com Newsletter today! Catch all of PCSTATS latest reviews right here.
Related Articles
Here are a few other articles that you might enjoy as well...
- Biostar TP35D3-A7 Deluxe Intel P35 DDR3 Motherboard Review
- Gigabyte GA-MA69G-S3H AMD 690G Motherboard Review
- ASRock ALIVENF7G-HDREADY/M/ASR Geforce 7050 Motherboard Review
- ECS G33T-M2 Intel G33 Express Motherboard Review
- MSI P35 Platinum Intel P35 Express Motherboard Review