The P35 Express is one of the most versatile chipsets to come from Intel's engineering labs in a long time. It's quick, supports all single and multi-core processors on the market now - right from 533MHz FSB through to 1333MHz FSB - and runs with much more affordable DDR2 memory. The last time Intel had a gem like this, was the i865PE. Ahh... brings a tear to my eye. Anyhow, PCSTATS has tested a fair share of mainstream and high end Intel P35 Express motherboards, but if you're not interested in frills you can get the performance of the P35 Express without blowing a lot of money. Yup, performance without spending a fortune, who would have thought it?
Biostar's TP35D2-A7 motherboard is built with Intel's P35 Express and ICH9 chipsets, so with a Core 2 Duo or Core 2 Quad processor it becomes the backbone for a good WindowsXP or Vista PC. The board retails for a mere $108 CDN ($111 US, £54 GBP), and offers a basic integrated feature set; Gigabit networking, 7.1 channel High Definition audio, an IDE controller for legacy optical drives, plenty of expansion slots both PCI and PCI Express.
You get the picture, P35 Express without any fluff. The four 3GB/s SATA 2 ports don't support RAID, and the Parallel printer port has been cut down to a header (no bracket included), but for most mainstream users this can be overlooked. The board is compatible with 533/800/1066/1333 MHz FSB Intel Celeron D, Pentium 4/D/XE and Core 2 Duo/Quad processors, and accomodates up to 8GB of DDR2-800/667 memory. DDR2 RAM is significantly less expensive than DDR3 memory, and for the time being the performance differences with a dual core processor aren't much.

Biostar TP35D2-A7 Deluxe Motherboard



Includes:
Driver CD, User's Manual, Rounded Ultra/133 IDE Cable, Floppy Cable, 4x Serial ATA Cables, 4x Molex to Serial ATA Power Cables, Audio Bracket, I/O Shield
Biostar packed the TP35D2-A7 motherboard with a PCI Express x16 slot for the videocard, a PCI Express x1 and PCI Express x4 slot for high bandwidth devices and three 32 bit PCI slots for your legacy hardware. At the back of the board are six USB 2.0 slots, there are three additional USB headers on the PCB. The most attractive aspect is the motherboard's low price. If you need to build a low cost, good mainstream PC with relatively high performance capabilities, the Biostar TP35D2-A7 and its P35 Express chipset certainly should garner attention.
The Biostar TP35D2-A7 is a plain and simple board, it has passively cooled chipset heatsinks and a nice organized component layout. I definitely have to give Biostar props for port/header labeling; even the USB header pin out information is printed on the PCB! The reason I mention this minor point is because the PCSTATS labs are testing a Moneual HTPC chassis right now, and its embedded USB controls all have single pins... necessitating +5V go to +5V and ground to ground, if you know what I mean.
While Intel has been happily kicking the IDE standard to the curb, Biostar equip the TP35D2-A7 with a JMicro JMB368 IDE controller, useful if you're still using IDE devices like CD or DVD writers. The Intel ICH9 Southbridge supports six Serial ATA II channels, however the Biostar motherboard only has four slots. RAID is not supported.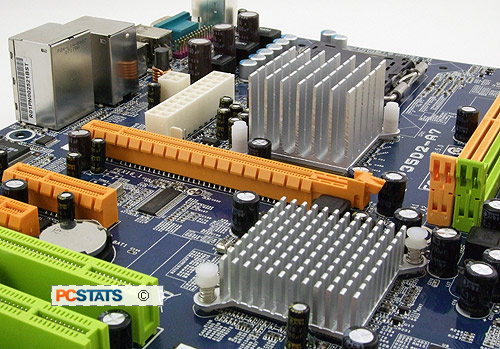 The Biostar TP35D2-A7 is equipped mainly with electrolytic capacitors, as opposed to the new trend of solid state polymer capacitors. In the grand scheme of things this probably won't make a huge deal unless you plan on running the same computer for five or more years.
Seeing as how the Biostar TP35D2-A7 is intended for the entry level market, Biostar does not include many cables or expansion brackets. If you need a parallel port or additional USB slots, you'll have to get those from your local computer store. In the box accessories are kept to a single SATA data/power cable, and IDE floppy cables.
Intel P35 Express and ICH9 Chipsets

The Intel P35 Express Northbridge chipset replaces the P965 Express as Intel's mainstream performance core logic part. The P35 Express not only supports all current Socket 775 processors running on a 533/800/1066 MHz Front Side bus, it also supports Intel's 45nm "Penryn" processor and 1333 MHz FSB processors like the Core 2 Duo E6750. The P35 Express ships with the ICH9 series of Southbridge chipset. As Intel quad core processors to set to be the mainstream shortly, the increase in Front Side Bus, from 1066MHz to 1333 MHz speeds, brings this to the necessary levels. By default the Intel P35 Express chipset only supports a single PCI Express x16 slot for videocards.
Next up, PCSTATS will take a closer look at the highlights of the Biostar TP35D2-A7 motherboard... including one "thing" you won't want to compute without!