Abstract: Darth Vader would be rolling over in his space grave if he knew his glossy black trademark look had been appropriated by Samsung for a recent line LCD monitors... not to mention countless cellphones. What have the Imperial Forces come to?!
80% Rating:
Home > Reviews > Monitors > Samsung Syncmaster 971P
Magic Tune Software LCD Properties Control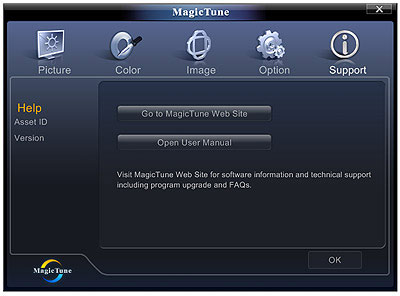 The MagicTune software is supposed to make adjusting all the visual properties of the LCD display easy from your PC desktop. Newbies love quick wizards and user friendly controls the saying goes...

In spite of the hassle of installing software to adjust the LCD properties, MagicTune can assist even the most novice achieve a properly adjusted screen, when it works. Should a users' PC only have an analog videocard connection, the MagicTune software is an annoying necessity. With a DVI video connection, just forget about it.

The MagicTune software has more options for PCs running with an analog video connection as this signal is not digital and requires more configuration. These include geometry, colour temperature, primary colours, and a few others.

Since the native setting is 1280x1024 pixels, the visual quality will be best when the resolution matches.

MagicBright Function Key

The "S" function button on the display stand loads up MagicBright, which allows quick brightness changes between the current brightness level and several pre-programmed modes for text, web surfing games, video, etc.

This is moderately useful, brightness and contrast buttons would have been welcome...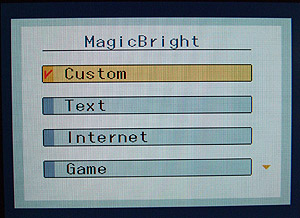 Evaluating the Syncmaster 971P's Display Quality
Brightness and Contrast: The Samsung 971P LCD has great shading under the gray scale test. The white scale bars are bright and the black background dark. Overall, the 971P's 1500:1 contrast ratio translates into non-illuminated jet-black backgrounds, and very bright whites. Newer versions of the 971P now have a 4000:1 contrast ratio. There was not light leakage along the sides of the display either.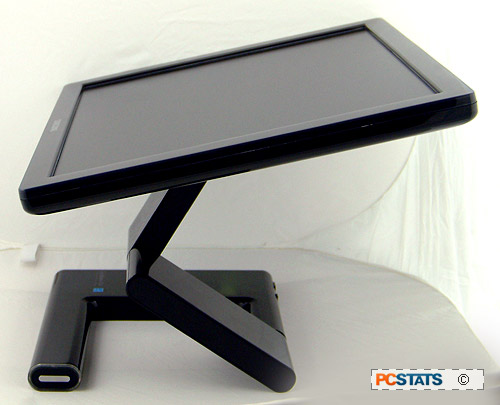 Colour Vibrancy: The three primary colour test screens were vibrant and uniform from corner to corner. Colour saturation was excellent, and there were zero dull or broken pixels visible.
Colour Shading: In this test there's a bit of banding due to LCD monitors being limited to displaying 16.7 million colours. Otherwise the 971P performed as expected.
Non-native Resolution: The native resolution of the Syncmaster 971P is 1280x1024 pixels. Image dithering at a non-native 1024x768 resolution was excellent, large text was very legible and distortion not visible. The 19" 971P handles text dithering gracefully.
Moire: There were no noticeable background noise in the moire test pattern in when using a DVI signal.
Gaming Tests: We put the Samsung 971P LCD display through a couple rounds of a FPS shooter, and the results were good. The colours were crisp, and the black areas of the screen nice and dark. I didn't really notice any ghosting (thanks perhaps to a 6ms G-to-G pixel response rate). Still, ghosting is a subjective thing, so unless you're looking for it you should be happy with the Samsung 971P.
So where does all this leave us?
SEARCH PCSTATS

---

Use the power of Google to search all of PCSTATS and the PCSTATS Forums. Tell us what you think of this new feature - FEEDBACK?