Darth Vader would be rolling over in his space grave if he knew his glossy black trademark look had been appropriated by Samsung for a recent line LCD monitors... not to mention countless cellphones. What have the Imperial Forces come to?!

In this review PCSTATS is testing out the 19" Samsung Syncmaster 971P LCD display, a sleek glossy black free standing display with great technical specs. The Syncmaster 971P has a bright 250nits luminosity rating, and killer black 1500:1 contrast ratio. (UPDATE: Newer revisions of the 971P display have a 4000:1 contrast ratio). Cost is around $390. Gamers should be happy with its 6ms G-to-G pixel response time, that's certainly quick enough for first person shooters. We can all croon over the Syncmaster 971P's 178/178 degree viewing angles, single DVI interface that does away with fussy control panel settings, a native resolution of 1280x1024 pixels and a power efficient 36W rating when in use. Standby power is as low as 1W.

A two port USB hub is built into the base of the Syncmaster 971P for convenience sake, a pretty standard feature now a days. Plugging an iPod or USB memory drive into ones' monitor stand is much nicer than reaching around to the back of a tower PC for the USB ports blindly.

Other than the important nitty gritty, the Samsung Syncmaster 971P TFT/PVA-LCD features a triple hinged stand, smooth Mac aesthetics, and the kind of simplicity that only an all-black bezel with no visible buttons can bring to the table. Well, there are two buttons, a touch sensitive power button (ringed by an annoying blue glow) and a hidden "S" function key to call up preset visual modes. The 19" screen rotates from landscape to portrait views, and the triple hinge allows a range of other tilting and height adjustments.

The Syncmaster 971P automatically chooses Analog or Digital video input, so this LCD is foolproof to set up. The base is not detachable from the LCD panel, and there are no VESA mounting points. The screen has a Kensington lock on the rear and is Microsoft Vista and Mac compatible.

Samsung Syncmaster 971P 19" LCD Display

Includes:

Quick start guide, DVI-to-DVI cable, USB cable, power cable and AC adaptor, software, screen cleaning cloth.


SPECIFICATIONS:
Screen size: 19"
Brightness: 250 cd/m2
Contrast Ratio: 1500:1 (newer versions are 4000:1)
Viewing Angle: 178°/178°
Inerface: DVI-I
Resolution: 1280x1024
Pixel Pitch: 0.294mm
Response Time: 6ms (G-to-G)
Power Draw: 36W
Dimensions: 423x433x228mm
VESA Mount: No
The Samsung Syncmaster 971P display comes with its software manual on the CD, the document is well laid out and presented in simple HTML format. The digital manual has little animations of the displays' features, and links to support websites as well as the full LCD specs listed.

Since the Syncmaster 971P monitor is a DVI based display, there is one critical piece of software we have to consider installing; MagicTune/MagicRotation.

Neither MagicTune nor MagicRotation are particularly heavy applications, but in the course of the review PCSTATS found them unnecessarily cumbersome. In the end we were left missing the basic manual controls for brightness and contrast (at the least). The "S" button on the left hand side of the folding base allows some customization of the luminosity and colour temperature. It loads MagicBright which has preset scenarios: Internet, gaming, Text, Sport, Movie Custom and Dynamic Content. Dynamic Contrast gives the best overall look with a mostly neutral preference to 6500 Kelvin..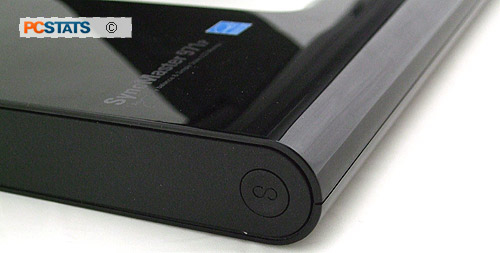 Problems with MagicTune Software
Don't you just love it when software bundled in with a product fails to work, or doesn't work with Vista? PCSTATS quickly discovered that the software provided by Samsung on the CD with the 971P was not compatible with Microsoft Vista. After following the link to the website, we installed the newer Vista MagicRotation software. The other application you may require is MagicTune, it brings all the OSD controls to the user since the 971P lacks any kind of manual OSD control.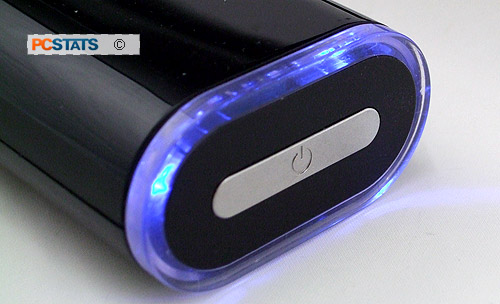 The power button on the 971P is touch sensitive, and surrounded by a glowing blue rim when on.
In our tests, MagicTune ver 2.0.13 for Vista was unfortunately a bust with our Geforce 8600GT and Vista combination. At this point we gave up on software based monitor OSD controls.
It's a monitor, it needn't be this complex to change visual settings. Right?
The problem with the MagicTune software may have been linked to the nVidia drivers, which were not correctly installed at first (Vista was just using the generic GPU drivers). After a quick update, MagicTune worked for about a minute then popped up a box saying "This computer system does not support MagicTune...."
Just great...
Our dislike of software based OSD remains as committed as ever. Since no computer is ever properly configured in all ways, off loading these basic monitor OSD controls to extra software is pointless - if you need to make adjustments rely in the default nVidia/ATI/Intel display options.
Luckily for us, the DVI video signal takes care of most of the display configuration automatically. But seriously, Samsung - what's up with this poor software?
Samsung Does Mac Esthetics
The only buttons on the 971P are the touch sensitive power switch and a function key you won't see unless you go looking for it. The power button responds to contact with skin, so gloves (leather, latex, nitrile, etc.) or otherwise covered fingers will not work. Samsung include a DVI-to-Analog, DVI video cable and a USB A-to-B data cable with the package. The DVI end of either monitor cable fits into a small recessed pocket in the base of the 971P display (there is one DVI signal input jack), with the wire running out along a small groove. The bulky white DVI connector is thus completely obscured from view.
Let's check out the highlights next shall we?