With a sticker price of $390 CDN ($400 USD, £190 GBP), the 19" Samsung Syncmaster 971P LCD monitor PCSTATS looked at in this review is priced towards the upper-end of the 19" LCD scale. Yet, compared to average 19" screens, the 971P offers wide 178/178 degree viewing angles, a gorgeous 1500:1 contrast ratio, and a brightness value of 250cd/m2. Newer revisions of the 971P display have a 4000:1 contrast ratio.
We really love it when an LCD screen is jet-black when it's turned on, and displaying a 100% black image. That has historically been a reliable indicator of overall image quality.
The Syncmaster 971P's pixel pitch of 0.294mm is standard, as is the native resolution of 1280x1024. Likewise, the 6ms grey-to-grey pixel response time is pretty average these days. It ought to be quick enough for FSP gamers.
Design and Style
There is no denying that the heavily designed glossy Darth Vader black Samsung Syncmaster 971P monitor is visually appealing. The picture is framed within a black glossy bezel, and from the rear no cables are visible coming out of the LCD panel. I think the 971P should find strong adoption in retail and reception desk environments, any location where the outward appearance of a business is critical.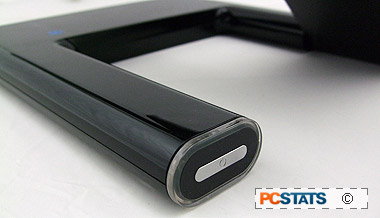 The clean black lines and lack of buttons make the Samsung Syncmaster 971P novice proof. Set up is a snap, so long as your PC has a DVI video connector. I can't see how the 971P can be hooked up incorrectly, or deliver anything less than a perfectly calibrated image.
The triple hinge gives the 971P a stable foothold with plenty of room to tilt forward or backwards, and supports the screen steadily if you choose to rotate it into portrait mode. The base doesn't have any side-to-side rotational features, which seems kind of silly give that this could have been built into the hinge where the stand meets the LCD panel. The two-port USB hub is a handy edition.
Unfortunately, if you wish to show a colleague next to you something on the display, the entire unit, base and all, will have to be turned. Whatever your orientation to the screen, the 971P's 178/178 degree viewing angles ensure a vibrant picture.
Where this LCD monitor falls short is in its accompanying software package. MagicTune/Rotate just didn't work in our Microsoft Windows Vista environment.... so just follow the advice we mentioned earlier in the review.
Ultimately, the 19" Samsung SyncMaster 971P LCD monitor is a well built and good looking display with excellent contrast and good luminance. If it's time for you to replace an older display with an LCD panel, the Syncmaster 971P will fill that role economically, without fuss, and look good doing it. We strongly dislike the software package, but thankfully a DVI video connection all but makes fussy software unnecessary.
Find out about this and many other reviews by joining the Weekly PCstats.com Newsletter today! Catch all of PCSTATS latest reviews right here.
Related Articles
Here are a few other articles that you might enjoy as well...
- Samsung Syncmaster 940UX 19inch LCD Display Review
- Samsung SyncMaster 243T 24-inch LCD Display Review
- Matrox DualHead2Go Analog Edition Review
- Matrox DualHead2Go Notebook Multi-display Breakout Box
- Samsung Syncmaster 173P+ 17inch LCD Display Review
- Samsung SyncMaster 930MP 19-inch LCD Monitor Review
- Samsung SyncMaster 730B LCD Monitor Review
- Samsung Syncmaster 173P 17-inch LCD Display Review
- Samsung SyncMaster 192MP LCD Monitor Review
- Samsung Syncmaster 172X LCD Monitor Review
- JustCom JC-M104U 4-Port USB KVM Switch Review
- Justcom Pro JC104P 4-Port KVM Switch