Abstract: The Penryn1600SLI X3-WiF motherboard is built on nVidia's nForce 680i SLI chipset, and as you may have guessed this platform supports Intel 'penryn' quad core, 45nm 'yorkfield' and dual core 'wolfdale' processors.
75% Rating:
Home > Reviews > Motherboards > ASrock Penryn 1600SLI X3-WiFi
Motherboard Highlights Gallery
As people who have tested hundreds of motherboards, we can tell you that the Asrock Penryn1600 SLIX3-Wifi has a pretty good layout. Space is the crucial factor, and you'll note there's an extra space between each videocard slot for dual-slot videocards, for example. All the components behind the slots are low profile, the SATA jacks set at the bottom edge out of the way.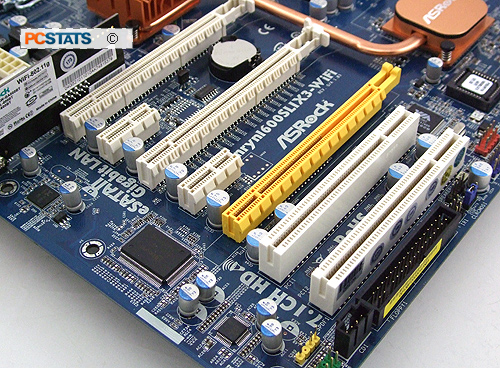 The first two PCI Express slots operate at x16 mode while the yellow slot operates in x8 mode. There are two PCI Express x1 and two legacy 32-bit PCI slots for further peripheral expansion.
The nVidia nforce 680i SPP is fitted with a passive copper heatpipe-based chipset thermal solution. It silently keeps the southbridge chipset cool. The one orange Serial ATA port is an internal jumper for the rear e-SATA jack - when used a single cable connects these two jacks together allowing use of the rear IO eSATA port.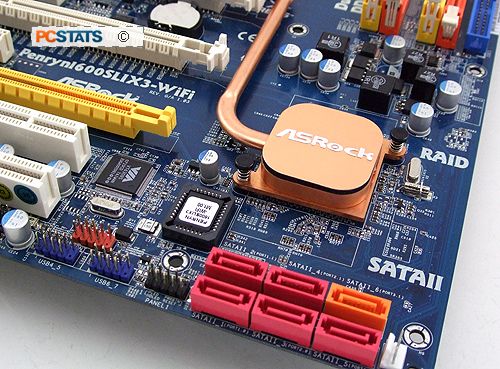 In this corner of the Asrock Penryn1600 SLIX3-Wifi motherboard are two USB 2.0 header, an IEEE 1394a header, six Serial ATA II slots, the front panel I/O header, and clear CMOS header.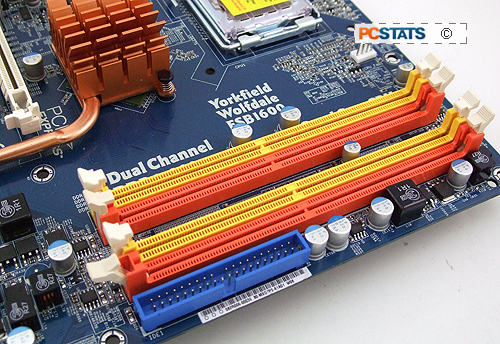 The Asrock Penryn1600 SLIX3-Wifi motherboard supports up to 8GB of DDR2-800/667/533 memory in its four dual channel DIMMs. Adjacent to the memory slots is a IDE connector, and the passive heatpipe connected nForce 680i northbridge chipset.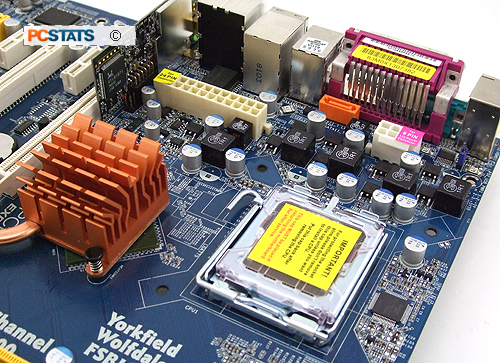 The board supports Intel socket 775 processors running on a a front side bus of 1600 (overclocked), 1333/1066/800MHz. There is plenty of space around the Intel CPU socket for big after market heatsinks. Both north and southbridge chipsets are cooled via a passive heatpipe-connected heatsink.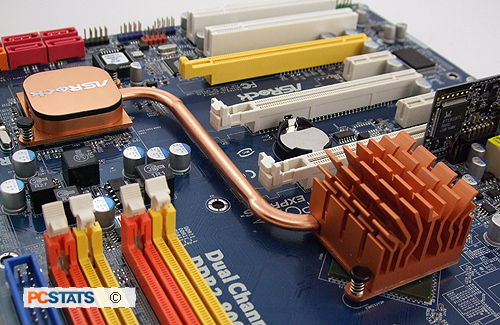 Heatpipe chipset cooling conducts all the heat produced by the motherboard core logic into a single passive heatsink that can takes advantage of the exhaust airflow coming off the CPU heatsink. There are no small 40mm fans to stall over time, and this approach doesn't generate any additional noise.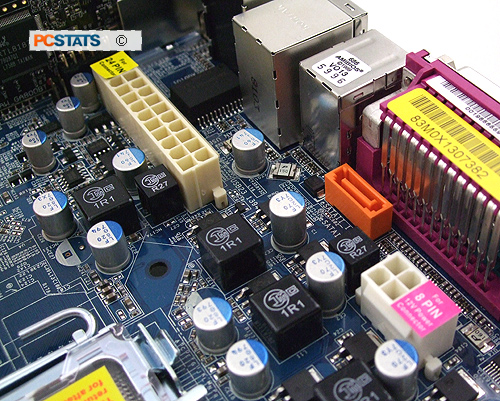 Tucked away in the corner next to the 802.11g wireless adaptor card is the 24-pin main ATX power connector and auxiliary 8-pin 12V EPS power header. The orange jumper SATA port for the rear eSATA jack is visible.
Time for some fun now as we attempt to overclock this Asrock motherboard!
SEARCH PCSTATS

---

Use the power of Google to search all of PCSTATS and the PCSTATS Forums. Tell us what you think of this new feature - FEEDBACK?