Asrock's motherboards are made with affordability in mind, and thus the boxes are pretty light when it comes to the bundle. It's one of those 'consider yourself lucky to see a SATA or IDE cable thrown in for free' manufacturers, which is okay because ASrock motherboards are inexpensive, and generally well enough built. The Asrock Penryn 1600SLI X3-WiFi motherboard breaks this mold somewhat by offering consumers a $125 platform with a bevy of multi-videocard, integrated wireless networking and quad-core Intel processor support.
The Penryn1600SLI X3-WiF motherboard is built on nVidia's nForce 680i SLI chipset, and as you may have guessed this platform supports Intel 'penryn' quad core, 45nm 'yorkfield' and dual core 'wolfdale' processors. Essentially, Intel's full family of 45nm quad and dual core chips, ranging from 800-1600MHz front side bus are spec'd out as compatible, with the following caveat... 1600MHz FSB processor support comes to us care of overclocking mode, it's not native. nVidia's nForce 680i SLI chipset technically only accomodates up to 1333MHz FSB processors, so keep that in mind.
In all other respects the Asrock Penryn 1600SLI X3-WiFi motherboard is a typical socket 775 offering; it has every feature under the sun you'll possibly need already integrated. Par for the course for Intel motherboards in this day and age. The 802.11g wireless LAN/AP card is a nice touch, so is the potential of running 3-way nVidia SLI for a kick in gaming performance!
This is an interesting board for a couple of reasons, but we'll get to all that in a moment.

Asrock Penryn 1600SLIX3-WiFi Motherboard




Includes:
User's Manual, Driver CDs, 3x Serial ATA cables, 1x Molex to Serial ATA Power Cable, Ultra/133 IDE Cable, Floppy Cable, HDMI-SPDIF cable, WiFi antenna, 2/3-way SLI bridge card, I/O Shield.
Asrock's Penryn 1600SLIX3-WiFi motherboard is built on the nVidia nForce 680i SLI chipset and supports the aforementioned range of Intel socket 775 processors and Front Side Bus speeds; 800/1066/1333MHz and via overclocking,1600MHz. The full size ATX motherboard has four DDR-2 memory slots that support up to 8GB of non-ECC DDR2-533/667/1066 RAM.
In terms of expandability, the Penryn 1600SLIX3-WiFi motherboard has three physical PCI Express x16 slots for one, two or three videocards, with the option of two-way and three-way nvidia SLI. The videocard slots run in x16-x16-x8 mode respectively, and support SLI with the appropriately matched videocard pairs or triplets. Additional expansion options include two PCI Express x1 and two 32 bit PCI slots. The PCI Express x16 slots are all double spaced, so big VGA heatsinks won't be a problem here.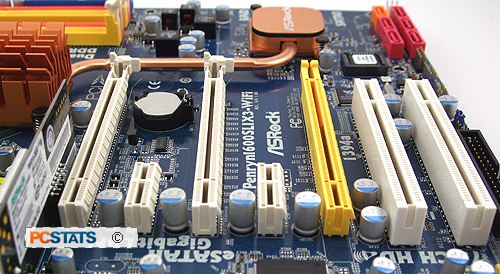 Data storage is represented by one IDE channel (save it for that dusty old DVD burner you're still clinging to), and six SATAII 3.0GB/s jacks that incorporate NCQ. That's great because serial ATA hard drives and optical drives have never been more affordable.
All SATA2 jacks are hot swapping, and if you've ever suffered the terror of a dead hard drive you can RAID 0, 1, 0+1, 5, JBOD them for redundancy or speed.
Take away one SATA jack by routing a jumper cable to the rear SATA jack, and voila, the Penryn1600 SLIX3-WiFi magically has a single eSATAII port at the rear I/O! Asrock save a couple dollars by not dropping in a chipset specifically for the eSATA ports.
Rounding out the Penryn1600 SLIX3-WiFi's notable feature set is a Gigabit network jack, built-in 802.11g 54Mbps wireless module (backwards compatible with 802.11b), 7.1 channel HD audio system with Digital Theatre Systems support (DTS), two IEEE 1394a firewire jacks (one header, one at rear I/O), four USB2.0 ports and two USB2.0 headers.
The board even has a parallel printer port, which is good because someone's too frugal to upgrade that monster dot matrix printer from 1989 right?
Asrock's Penryn1600 SLIX3-WiFi motherboard is Windows Vista/Vista-64 and Windows XP/XP-64 compliant, and comes with a comprehensive multi-language manual and driver CD. It retails for about $125CDN ($125US, £70GBP).
Now, not all wireless is created equal as we'll see next...