Chipset Feature Breakdown
nVidia nForce 680i SLI
CPU
Socket 775
FSB MHz
1333MHz
nVida SLI
(2) x16, or (3) x16/x16/x8
SLI ready memory
1200MHz
Native Gigabit Ethernet
2
Teaming
Yes
TCP/IP Acceleration
Yes
nVidia MediaShield Storage
Yes
SATA/IDE HDD
6/2
SATA Speed
3Gb/s
RAID
0, 1, 0+1, 5
nVidia nTune Utility
Yes
PCI Express Lanes
48 lanes
USB Ports
10
PCI Slots
5
Audio
High Definition Audio (Azalia)
nVidia's nforce 680i chipset is getting along in age, but it's still a nice platform for Intel users looking to marry Core 2 Duo/Quad processors together with Geforce videocards and SLI.
The Asrock Penryn 1600SLI X3-WiFi motherboard has both a north and south bridge nForce 680i, the main reasoning is PCI Express lanes.
The nVIDIA nForce 680i SLI officially supports up to 1333MHz FSB processors, and JEDEC standard DDR2-800 memory as well as DDR2-1200 SLI-Ready RAM. The pair of chipsets support 46 PCI Express lanes in total, or two PCI Express x16, one PCI Express x8, and six PCI Express x1.
For those looking to improve gaming performance by teaming multiple videocards, the nforce 680i offers up standard twin videocards SLI and three-way SLI as well. Three-way SLI is an option with Geforce 8800GTX and 8800Ultra videocards among others, just look for the double card edge connectors on the top edge.
The chipset supports five regular 32 bit PCI slots, dual Gigabit MACs with nVIDIA's DualNet technology, a 7.1 channel High Definition Intel Azalia audio controller, six Serial ATA II slots and one IDE channel. There are a raft of nVidia specific technologies in tow with the 680i SLI chipset, including; ESA, SLI ready memory, MediaShield, Firstpacket, Dualnet, Teaming and TCP/IP Acceleration. Tools like nVidia nTune will allow enthusiasts to control their systems and overclock compatible videocards from the comfort of Windows Vista desktop.
Overclocking the Asrock Motherboard

Overclocking Results:
Asrock is not known for its overclocking prowess, but the company does offer some basic adjustments in the BOIS and through is "Asrock OC Tuner" software with the Penryn 1600SLIX3 motherboard.
The BIOS options are pretty limited, and incremental FSB values have to be keyed in by pressing the + key repeatedly. Note, you'll need to disable Intel Speed Step before you can change the CPU multiplier.
Our overclocking expectations are pretty low for the Asrock Penryn 1600SLIX3 motherboard, but let's see how it handles before completely dismissing it... The board will be equipped with anIntel Core 2 Duo E6750 processor and a 2GB set of Corsair's DOMINATOR Twin3X2048-1800C7D memory. The CPU's clock multiplier set to 6x, and memory to run at DDR2-800 mode.
Starting from a Front Side Bus of 333MHz, the first jump brought us to 340MHz FSB, then 350MHz, 375MHz, and 400MHz....then nothing. That's all she wrote.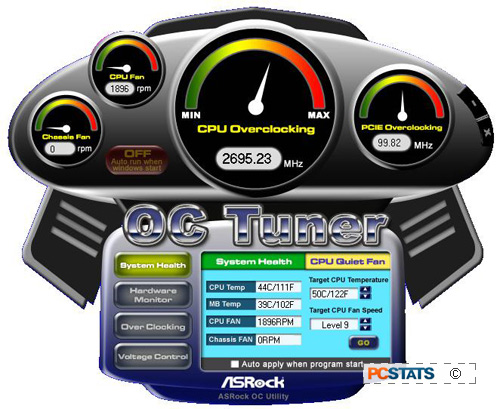 The Asrock OC Tuner overclocking tool allows multiplier, FSB, PCI Express clock changes and adjustment of several voltage options. It displays current clock speed and information about fans and temperatures.
The software based Asrock OC Tool didn't handle much better. PCSTATS was able to overclock the board to the same degree, going any further just caused the system to crash. As anticipated, Asrock is not the best overclocking choice when it comes to motherboards, and that's totally fine.
A look at the tweaks in the BIOS is coming up...