Abstract: The K7-pro represents MSI's second attempt at the AMD Athlon motherboard market. Did they get it right this time, or fumble trying?
81% Rating:
Home > Reviews > Motherboards > MSI K7-Pro
Features of the board
This board features the AMD 750 Chipset, featuring the AMD Irongate Northbridge and the AMD Viper (756) Southbridge. The major limitation of the AMD 750 chipset is the fact that only 768MB of RAM can be supported. It uses only PC-100 RAM, and the AGP interface is restricted to 2X transfers only

. AGP 2X is a bit of a disappointment, as most high performance mainstream AGP cards take advantage of the AGP 4X protocol. And there is a speed boost when going from 2X and 4X (it's not double though).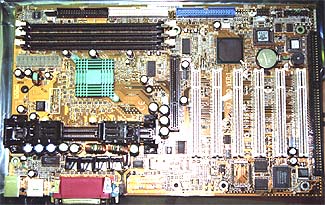 The K7 Pro supports AMD Athlon Slot A processors starting with the first 500Mhz model all the way to up to the top of the line 1Ghz models.
The AMD 750 chipset restricts the maximum installed memory size to 768 MB, therefore this motherboard only has three 168-pin DIMM slots. This doesn't mean much to the average user, but I do have some friends that have above average needs. For them, having 1GB of memory is a realistic requirement.
This motherboard has 1 AGP slot (1X and 2X compatible only,) 6 bus mastering PCI slots (intriguing because the AMD 750 chipset only calls for 5 bus mastering PCI slots,) as well as one ISA slot.
This motherboard does not use jumpers or dip switches to control the FSB or voltage selections. Instead the motherboard auto detects the CPU's settings, so all you have to do is plug the CPU into the Slot A connector. FSB frequencies can be selected within the BIOS. You get a decent range of FSB's to choose from; 90Mhz, 95Mhz, 100-125Mhz, 133Mhz, 140Mhz, and finally 150Mhz. Tweaking the CPU voltage is also done within the BIOS. CPU voltages can be adjusted from 1.4, 1.45, 1.55, 1.6, 1.65, 1.7 and 1.75 volts.
Since this is the most recent revision of the AMD 750 chipset, the K7 Pro also has the Super ByPass feature available for a nice performance tweak. With this feature enabled in the "Advanced Chipset" section of the BIOS, users can enjoy a speed increase that brings the perfomance level up to KX-133 levels (newer VIA chipset with PC-133 and AGP 4X support.) Superbypass increases memory performance, which leads an overall increase in system performance.
There is one onboard floppy drive connector, and two colour coded IDE connectors, all placed in one line along the back end of the motherboard (IDE connectors are usually stacked one above the other.) The MSI placement of the IDE connectors makes it easier to install cables on the primary and secondardy IDE connectors. The classic way gets the cable ends all bunched up.
SEARCH PCSTATS

---

Use the power of Google to search all of PCSTATS and the PCSTATS Forums. Tell us what you think of this new feature - FEEDBACK?